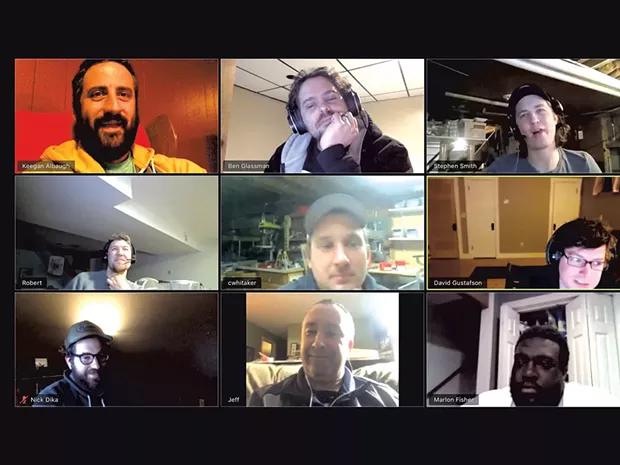 One evening in May, I slouched against the kitchen island and started sobbing. Two months into the COVID-19 pandemic, I found myself drained. Raising two children, one 18 months old and the other a few weeks shy of her 4th birthday, while my partner and I both tried to work was having a hugely negative impact on my mental health.
After a few minutes of letting the tears flow, I wiped my eyes with my sleeve, then grabbed my phone. I opened up Marco Polo, an app for group video messaging, and tapped the "record" button.
"It's hard to describe the feelings I was having ... I think I'm just fried ... The past two nights, Penny's had a hard time going down to sleep. Usually, she goes down pretty easily, but she's been, like, up and crying. And then, when she finally went down ... I just, like, I just started sobbing."
After delivering the monologue, I went to get a drink of water. Within the next half hour, several fathers responded to my video, offering empathy, support and thoughtful words. I felt better. Supported. Connected.
At the start of the pandemic, Dad Guild — the nonprofit organization I helped start in 2018 — started a Marco Polo group so local fathers could connect virtually. Now, it boasts more than 20 fathers, with a dozen who post and respond to videos regularly. After four months of participation, group members have remarked that this is the closest and most comfortable they have ever felt with a group of men. I agree.
This type of vulnerable, supportive network among fathers, and men overall, is not common.
According to a survey completed in the United Kingdom by YouGov, a global public opinion company, "around 18 percent of men said they did not consider themselves to have close friends." Thirty-two percent stated they did not even have a best friend.
And, typically, dads start off without much support prior to the birth of a child. In a 2015 Massachusetts General Hospital survey of more the 900 expectant fathers, one-third of the respondents "answered 'nobody' when they were asked who they could go to for support and information about fathering skills."
Although the numbers are alarming, I'm not surprised. In our society, men are conditioned to bottle up their feelings and mask their vulnerabilities. But men need opportunities to connect, share and listen.
The positive impacts of social connections are clear. In a Johns Hopkins University study, it was found that "blood pressure rates improved 17 percent when men suffering from heart disease had the support of friends and a spouse, as opposed to just a spouse." And research at the University of Michigan "has correlated being part of a social group to a 67 percent improvement in symptoms of depression."
I think about how my own social life has looked over the years, and how the older I've gotten, the more challenging it has been to find meaningful, healthy friendships. When I was in high school and college, I could literally walk down any hall and bump into people I knew. After college, once I started working, it got a little trickier. Spending time with friends and engaging in personal conversations usually required intention and planning.
Shortly after kids entered the picture, the number of friends I felt I could talk to regarding personal matters dropped to less than five.
So, what can we do? Here are some ideas for fostering meaningful friendships with other dads, most of which are still possible during this time of social distancing:
Search for a dad group. They may be few and far between, but search your community for any dad groups or clubs. In the Burlington area, fathers who have regularly attended Dad Guild events have tripled the number of dads they feel they can turn to when they want to discuss fatherhood topics, according to a recent survey.
Find a Meetup or Facebook group around a specific interest. Have a hobby? Search for groups of people with like-minded interests. Connecting over a shared interest can lead to lasting friendships.
Connect with your neighbors. Bake some cookies and bring them to a neighbor you don't really know, or just spend more time grilling on your front lawn. A lot of times, we live around awesome people but don't really take the time to connect.
Volunteer for a local cause. What are you passionate about? Chances are, if you volunteer with an organization with a mission that aligns with your beliefs, you'll connect with people who share similar ideals.
Reconnect with friends from the past. We get busy and don't always prioritize reaching out to those we already have established relationships with. Take a moment and reach out to someone you haven't spoken with in a while.
In our Marco Polo group, one of the fathers welcomed his second daughter in July. While at the hospital, another dad, who owns a local coffee business, dropped off iced coffee for the father and all of the nurses on the unit. That night, the father recorded a message:
"Thanks so much for all the support. It really means a lot. I'm getting a little emotional ... It's just been really amazing getting to know you guys and sharing everything that's going on in our lives. I feel in a really different place, um, in terms of the sense of community to where I was, I don't know, maybe six months ago ... I appreciate you guys. I'll catch up with you soon."