file: Robin Katrick Photography
Willoughby Lake Beach
When the temperature heats up, it's nice to find a place to cool down. In Vermont, that often means visiting a lake, river or swimming hole. Luckily, there are many picturesque places to choose from. Wherever your destination this summer, it's a good idea to pack a swimsuit and water shoes just in case. Read on for 10 special spots to take a dip.
1. Willoughby Lake Beach
Known for its cold and clear waters, this lake resembles a Norwegian fjord and is second only to Lake Champlain as the deepest in the state. Located between Mount Pisgah and Mount Hor, Willoughby State Forest surrounds portions of the lake and provides hiking with stunning 360-degree vistas. The north shore boasts a significant sprawl of sandy beach. Local but unverified lore maintains that the lake is home to an elusive water monster and a mysterious underground cavern that connects Willoughby with nearby Crystal Lake in Barton. Free
2. Boulder Beach State Park
Courtesy Vermont State Parks
Boulder Beach State Park
This sandy stretch earns its name from the enormous rocks deposited by long-ago receding glaciers, now studded along the shore. Find a shady spot for a picnic on the sprawling grass, then dive into a lake that's picturesquely ringed by mountains. In the past, Native Americans flocked to Groton for hunting, fishing and gathering wild edibles. Now, visitors can enjoy Boulder Beach, plus the six additional parks in Groton State Forest that offer camping, hiking and more swimming options. $2-4; free for children 3 and under.
3. Waterbury Reservoir
Courtesy Peter Kelley
Waterbury Reservoir
This sizable reservoir — Vermont's ninth-largest body of water — was created by the Civilian Conservation Corps in the 1930s as a flood-control project to protect towns along the Winooski River Valley. Today, visitors to this state park's 90-acre peninsula take advantage of picnicking areas, a swimming beach, a nature trail and fishing. Borrow free fishing gear to use in the park as part of the state's Reel Fun loaner program. $2-4; free for children 3 and under.
4. Warren Riverside Park Swimming Hole
This popular swimming hole along the Mad River may no longer be a small-town secret, but locals — and tourists — keep coming for good reason. While daredevils jump from cliffs further along the river, this shaded and shallow swim spot is perfect for families. Another option in Warren is Blueberry Lake, off Plunkton Road. Owned by the U.S. Forest Service, the shallow man-made lake is filled with clear, spring-fed water and is a popular spot for anglers, kayakers and birders. Free
5. Lake Iroquois
Lake Iroquois was created in 1867 to supply Hinesburg mills. Four towns — Williston, Richmond, Hinesburg and St. George — maintain this sweet spot, which offers swimming, kayaking, waterskiing and fishing. At the north end, 380 acres of forest lure walkers into its wooded beauty with hiking trails. A playground and seasonal snack bar provide an additional draw. $4-8; free for children under 13.
6. Malletts Bay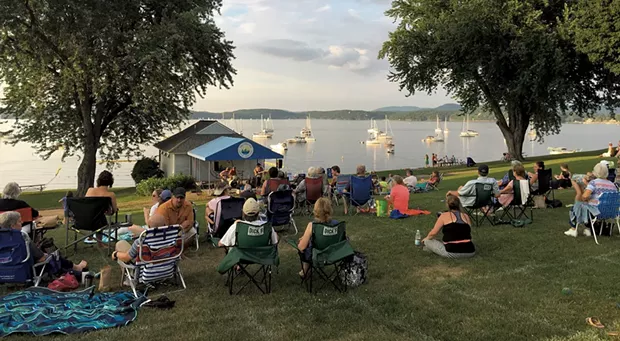 Courtesy
Bayside Beach on Mallets Bay
A lesser-known gem in Chittenden County, this sizable inlet of Lake Champlain features lifeguard-staffed Bayside Beach. Relax in the sand and sun or check out the adjacent Bayside Inflatable Water Park, where bigger kids and grown-ups entertain themselves with a giant slide, bounce pad and water jungle gym. Across the street, the city park provides a respite from H2O with a skate park, picnic areas and a playground. Free.
7. Connecticut River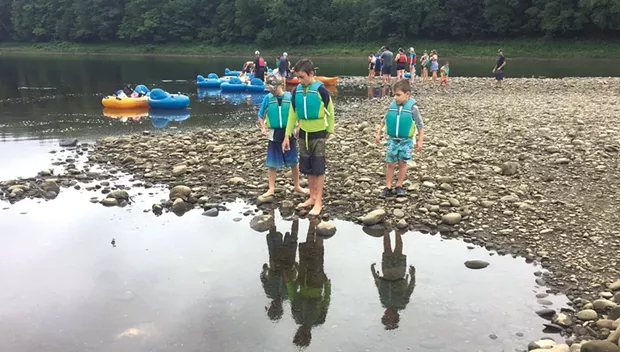 Courtesy Brooke Bousquet
Tubing with Great River Outfitters on the Connecticut River
On an easy stretch of the river,
Great River Outfitters
offers floating trips via tubes, kayaks, canoes and standup paddleboards. Whatever your method of travel, ease on down the river at your own pace, take a break on a sandbar and keep your eyes peeled for bald eagles. Harpoon Brewery offers cold drinks, pub food, backgammon and a playground at the journey's end. Call ahead for river conditions, and be sure to make dinner reservations. See Great River Outfitters' website for pricing.
8. Quechee Gorge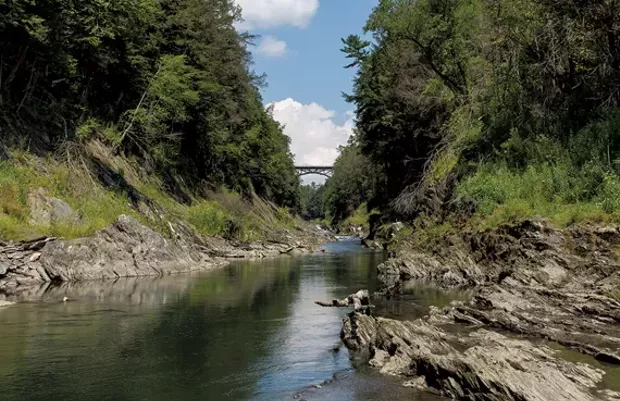 Courtesy Brooke Bousquet
Quechee Gorge
Known as "Vermont's Little Grand Canyon," this mile-long chasm was buried beneath glaciers thousands of years ago. Today, visitors ooh and aah over waterfalls and vistas 168 feet above the Ottauquechee River. A half-mile trek down a well-trodden path rewards hot hikers with a cold natural pool the size of a football field. Water shoes are recommended for the rocky terrain. Free.
9. Wrightsville Beach Recreation District
Six miles north of Montpelier, this watering spot isn't far off the beaten path. Built in the 1930s, the dam is named for Wrightsville village. The tiny town was disbanded when the Wrightsville Dam was constructed to prevent future flooding after the Flood of 1927. Now, in addition to a sizable beach, this recreational area — maintained by Middlesex, Montpelier, East Montpelier and Worcester — offers canoe, kayak and paddleboat rentals; an 18-hole disc golf course; an extensive trail network; plenty of picnic spots; and a small selection of snack food. $1.50-4; free for children 2 and under.
10. Silver Lake State Park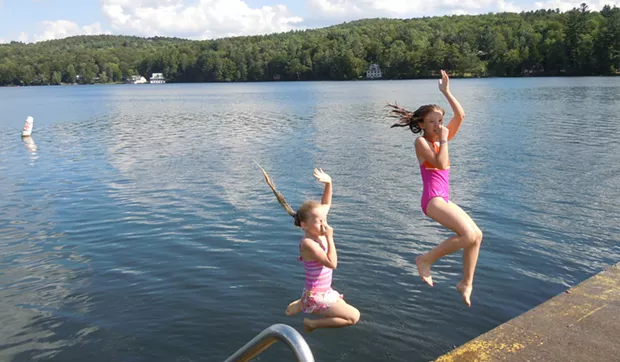 courtesy vermont state parks
Silver Lake State Park
Centrally located between Woodstock and Killington, this state park offers access to a serene 84-acre lake, stocked with northern pike, perch and smallmouth bass. In addition to camping spots, the sandy beach and wide fields are great for lounging and frolicking. Consider renting a canoe and treating your kids to a leisurely paddle around the lake. Don't forget to listen for loons. $2-4; free for children 3 and under.