School's almost out, which means it's time again for Kids VT's annual Vermont Day-cations series. Every summer, we send our writers to must-see, family-friendly destinations across the state and around the region. They're all places you can visit for a day — though some, such as Burton Island State Park, merit a longer stay.
In each of our summer issues, we'll explore two stops where you and your kids can experience the natural beauty and unique culture of the Green Mountain State.
Looking for more day-trip ideas? Read the rest of our award-winning Day-cation series here.
File: Jeb Wallace-Brodeur
Fans watch a race at Thunder Road SpeedBowl
Drive Time: Thunder Road SpeedBowl
Graniteville-East Barre, 244-6963, thunderroadspeedbowl.com
Taking my three boys to a racetrack without male backup isn't something I'd normally consider. But my husband is deployed overseas with the Vermont Air National Guard, and, when Dad is away, Mom and the kids must play! So on a recent Sunday afternoon, I took my boys to the top of a hill in Barre to watch the 15th annual Merchants Bank 150 at Thunder Road SpeedBowl.
We're not NASCAR fans, so we weren't quite sure what to expect. All I knew for sure was that it would be loud, and it was. As we approached the ticket booth, we could hear the cars practicing on the quarter-mile track.
"It sounds like the jets!" my military kids yelled with excitement. Yes, packing earplugs turned out to be a good idea.
But as we headed in, I felt terribly unprepared in other ways. Spectators with lawn chairs, coolers and blankets covered the fields above the track. We were armed with a single blanket and bottle of water. Rookie move, Mom.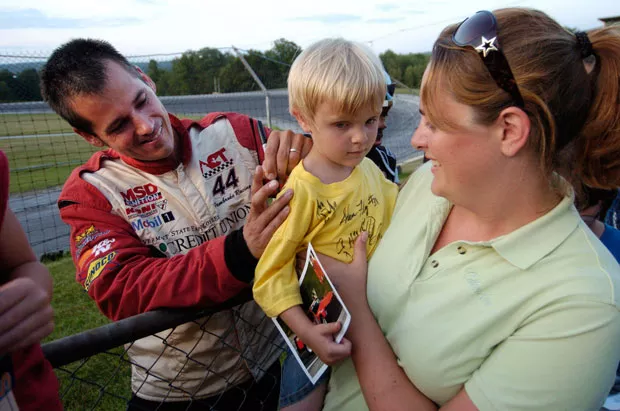 File: Jeb Wallace-Brodeur
Tanya Cheney of Moretown holds her son Owen as late-model driver Dave Pembroke signs his shirt
Thankfully, Thunder Road also has concrete bleachers. They weren't the most comfortable seats — my bottom was grateful for that blanket — but the boys didn't mind. They were fascinated by what was happening around them. I never once heard the phrase, "I'm bored." With a 12-year-old in tow, that is nothing short of a miracle.
We sat up close, front and center. Once the races began, we could see, hear and feel every car that sped by. Our drinks rattled with every turn and our hair blew with each pass. I'm a fairly "girlie" girl — even with three boys, I have managed to maintain some degree of femininity — but as those cars raced by us, I got right into it.
As I was planning this trip, I got some valuable advice from Thunder Road's media director. "Pick a driver to cheer for," he told me. "It makes it more fun." Before the race began, we scoured the day's list of drivers until we found our guy — a driver from our hometown. Sure enough, rooting for him kept our eyes glued to the racetrack. We cheered him on the whole time.
Except for when we were waiting in line for the concession stand. And wait we did. It was opening weekend. I've never seen crowds like that in Vermont.
The concession stand offered everything you would expect — hamburgers, hot dogs, French fries and, our favorite, fried dough. It cost around $20 for hot dogs and fries with drinks. We went back later for our fried-dough treats, which added another $10 to our food total for the day. Not bad.
After the race, fans were allowed into the pits to meet the drivers and check out their cars. It was a thrilling moment for the boys because, as luck would have it, our driver won!
It was a winning day for all of us; hanging out at the racetrack was the most fun we'd had in a long time. Next time, we'll pack padded seats and a cooler to make the trip more comfortable and affordable. We'll bring Dad along, too.
Courtesy of Tasha Lehman
The Lehman boys at the racetrack
Know before you go:
Visit thunderroadspeedbowl.com for an updated schedule. Prices vary by event, but admission is generally $10-15 for adults, $3 for ages 6-12 and free for kids under 6. Bring cash — credit or debit cards are not accepted at Thunder Road. Other must-haves: ear plugs, sunscreen, bug spray and blankets.
Also, be prepared for a day filled with crowds and noise. My boys are outdoorsy, thrill-loving guys, and they had a great time. But the two little girls sitting behind us didn't seem as excited; nor did a few younger kids, boys and girls alike. You might want to throw a few games or toys in your backpack to help less-interested family members pass the time.
And pick your seats carefully. If you're visiting with antsy children who may be bothered by the noise and not thrilled to be wearing ear plugs, bring blankets and chairs and sit at the top of the hill in the grass, a good distance from the actual track. Try to find a spot where you can watch the flagman. We had a lot of fun watching him wave the flags and figuring out what each one meant.
Where to eat:
After hitting up Thunder Road's concession stand for fried food, we couldn't think about stopping anywhere else to eat. However, downtown Barre has many family-friendly dining options. We really wanted to check out Ladder 1 Grill, the old Barre firehouse-turned-restaurant that's dedicated to firefighters, but it's closed on Sundays.
Cathy Resmer
Graham and Ivy Resmer explore the water's edge at Burton Island State Park
Island Adventure: Burton Island State Park
2714 Hathaway Point Road, St. Albans, 524-6353, vtstateparks.com
I'm torn between a journalistic impulse to write about Burton Island State Park and a selfish desire to keep it to myself.
The 253-acre park is one of three island campgrounds in Lake Champlain. Offering stunning lake views, private beaches and hiking trails, it's accessible only by boat; cars aren't allowed on the island. Camping there, you feel far removed from the cares and distractions of daily life.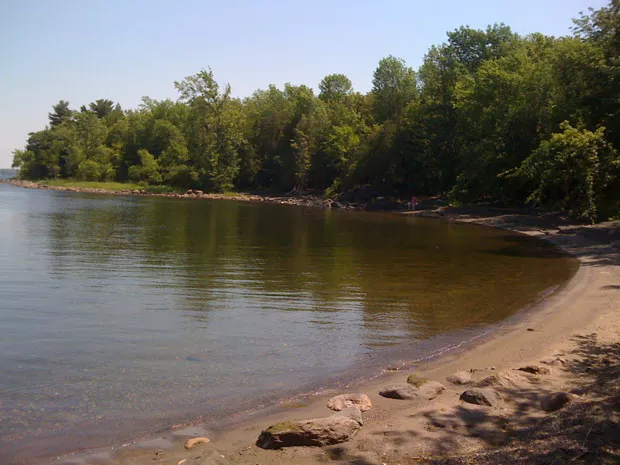 But, in fact, you're not very far at all. A ferry runs between Burton Island and Kill Kare State Park in St. Albans during the park's operating season, from Memorial Day weekend to Labor Day. The trip from one shore to the other takes just 10 minutes.
You're not far from modern conveniences, either. The campground has bathrooms, potable water and a well-stocked general store. There's even cellphone reception and wi-fi. It's kind of like car camping, minus the car.
That makes Burton Island a great place to camp with kids. You can buy ice — or, for yourself, beer! — and you don't have to worry about the kids getting run over while they're walking to the bathroom. Except possibly by other kids on bikes.
Last June, my partner and I and our two children, then ages 4 and 6, camped at Burton Island for the first time. We left Burlington around 4:30 p.m. on a Thursday. Two hours later, we were using the park's free carts to schlep our gear through the woods to our lean-to.
We set up our tent inside the lean-to as a refuge from the mosquitoes, then scarfed some sandwiches for dinner and crossed the road to play at the water's edge. The sunset was spectacular.
Ann-Elise and I love camping. We've been bringing Graham and Ivy along since they were infants. They each get their own sleeping bag, water bottle and headlamp, but other than a pack of Uno cards and a net to catch bugs, we don't bring many toys. Nature provides plenty of entertainment.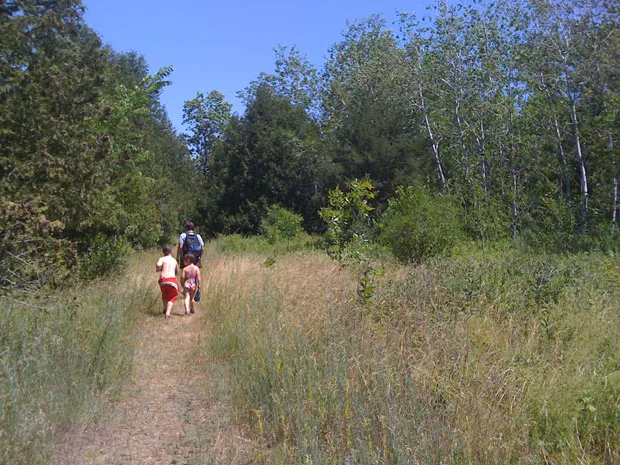 Cathy Resmer
Hiking at Burton Island State Park
The fallen log behind our lean-to, for example. Ivy must have spent hours climbing on top and walking across it on her hands and knees, trying to balance on two feet. She told us later it was her favorite part of the trip.
The kids also loved finding bugs, rocks and shells. Graham waded at the beach by the marina for an hour one day, trying to catch water skimmers in his net. Over the course of four days there, we found three crayfish exoskeletons. They're currently displayed on a shelf in our living room.
Wildlife sightings while camping are always a treat, and Burton Island didn't disappoint. We spotted a largish black snake curled beneath a tree, a wide variety of birds, a live crayfish and a turtle that looked like the Eastern spiny softshells we've seen at ECHO Lake Aquarium and Science Center. There were also some large, exotic-looking spiders in the bathroom.
One sunny afternoon, we hiked to the southern tip of the island. Along the way, we stopped to check out four remote campsites that are part of the Lake Champlain Paddlers' Trail. After investigating their outhouses, we climbed down a slope at the base of the campsites to a rocky beach. That was one of my favorite moments of the trip — the four of us hanging out on a secluded, stony shore, gazing across the lake toward Georgia and Milton.
I felt blissfully detached from the Green Mountain mainland, yet able to marvel at its lush summer beauty. There aren't many accessible, publicly owned vantage points that afford such a view. You really should plan a trip to see this one — but kindly wait until after I've made my reservations.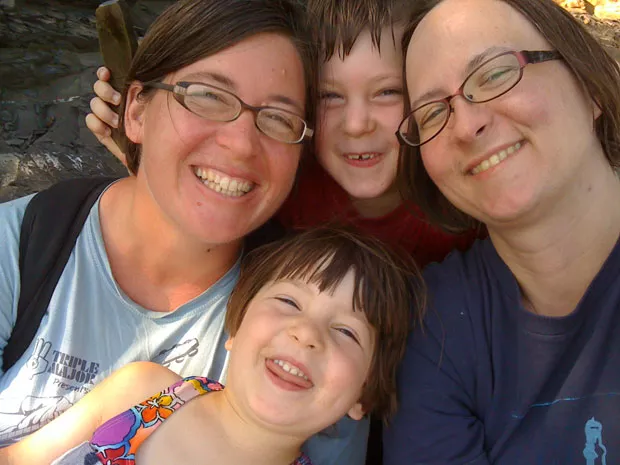 Cathy Resmer
Ann-Elise Johnson, Graham, Cathy and Ivy Resmer on their family camping trip
Know before you go:
Camping reservations are accepted 11 months in advance on the 15th of the month, or the first business day after. The park is understandably popular, so the prime lean-tos go quickly. There are plenty of tent sites, though. You can always call ahead to double-check availability. Someone might cancel.
Burton Island also makes a great day trip. The ferry runs regularly between 8 a.m. and 6 p.m. It costs $4 per person each way; children ages 3 and under ride free. For $2, you can bring a bike. Or you can cruise over in your own boat — there are 15 off-shore moorings and a 100-slip marina.
For $10, the staff will deliver your gear to your campsite.
Never been camping with the kids before? Check out the Vermont State Parks website, vtstateparks.com, for suggested activities and tips.
Where to eat:
We bring our own food when we camp. Cereal, breakfast bars and oatmeal are all easy. A loaf of bread, a block of cheese and some grapes go a long way at lunch.
"Thanksgiving in a bowl" is my favorite camping dinner — combine mashed-potato flakes, dried stuffing mix and dried cranberries in a bowl, add hot water, stir and serve.
You can also buy sandwiches and meals made to order at the general store.
Also nearby:
Woods Island State Park and Knight Island State Park offer more remote island camping experiences. Neither is far from Burton Island, but you need your own boat to get there.