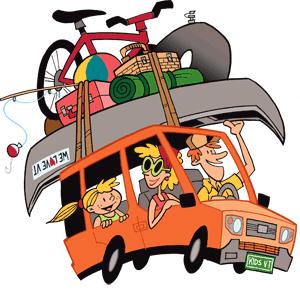 Summer in Vermont is short and oh so sweet. The lush, green days of June, July and August make up for the long, dark winter.
To help you get the most out of this fleeting season, Kids VT presents a three-part series of recommended summer day trips designed to introduce your family to the rich variety of experiences Vermont has to offer. This month's list of 10 "daycations" focuses on the state's cultural and historical attractions, of which there are many. These trips will give you an opportunity to learn about the Green Mountain Boys' role in the Revolutionary War, see how the granite industry shaped the state and discover evidence of the prehistoric days when tropical marine animals were Vermont's only residents.
Next month's Kids VT will explore mountains and trails; the August issue will suggest ways to get out on the water.
Each recommendation includes other nearby attractions, as well as an affordable place to get or eat food. For more meal tips, pick up the 2011 edition of 7 Nights: The Seven Days Guide to Vermont Restaurants & Bars, available at more than 1000 locations statewide, or find it at sevennightsvt.com.
These lists are not comprehensive, but we hope they'll inspire you to travel to a part of Vermont you've never seen before, to get off the highway and try something new. On a gorgeous summer day, the drive along scenic country roads is part of the fun.
So get out and enjoy the mountains while they're still green! It'll be time to pick apples again before you know it.
1. Goodsell Ridge Fossil Preserve, Isle La Motte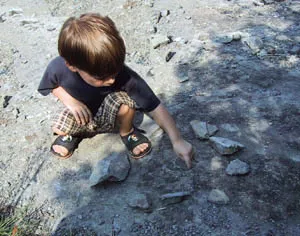 Before humans walked the Earth — before dinosaurs walked the Earth — the Champlain Valley was part of a shallow tropical sea. Take your pint-size paleontologists to see evidence of Vermont's aquatic past at the 81-acre Goodsell Ridge Fossil Preserve and look for fossilized marine life, including stromatoporoids, trilobites and cephalopods that lived 480 million years ago. Now, that's old school. Be ready to walk — no motorized vehicles or bicycles are allowed — and no rocks or fossils may be removed. A one-room museum sheds light on the experience. Call ahead to find out if it's open.
Hours: None — just walk in
Admission: Free
Phone: 862-4150
Website: lclt.org
Nearby:
2. Bread and Puppet, Glover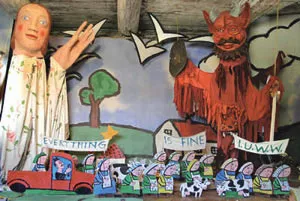 If you've been to a summer parade in the Northeast Kingdom — or an antiwar rally in Burlington — chances are you've caught a glimpse of Vermont's resident political puppeteers, whose life-affirming puppetry and pageantry have enlivened the landscape here since the 1970s. You can always learn about the history of Bread and Puppet Theater, and view a collection of its giant puppets, at the Bread and Puppet Museum. Better yet, come on a Sunday afternoon in July or August to watch them in action. The fun starts with a museum tour at 1 p.m., followed by "little street shows and happenings" at 2:30, with the "Man = Carrot Circus" at three. Don't understand it? Don't worry. The kids will enjoy the spectacle, and the grounds are a great place to run around. Plus, free sourdough rye.
Hours: Museum is open daily, 10 a.m. to 6 p.m.
Summer schedule: Annual museum open house, with music and live performances, Sunday, June 5, 1 to 4 p.m. Sunday shows start July 10 and end August 28.
Admission: Free
Phone: 525-3031 or 525-1271
Website: breadandpuppet.org
Nearby:
3. Fairbanks Museum & Planetarium, St. Johnsbury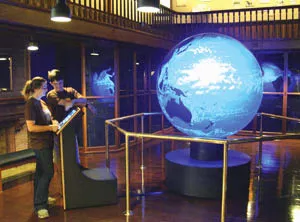 The Fairbanks bills itself as a natural history museum, and there is certainly much for budding naturalists to see, including dozens of exotic stuffed birds and a giant stuffed moose. It's also the home base of Vermont Public Radio's "Eye on the Sky" meteorologists. But there's more: The Victorian-era museum's eclectic array of cultural artifacts, including several patriotic "bug art" canvases made from beetles and cabbage moths, lends it a quirky charm that's missing from more modern institutions. Don't rush through it; there are some really odd items under the glass in those display cases. The 50-minute planetarium shows are fun, too.
Summer hours: Monday through Saturday, 9 a.m. to 5 p.m.; Sunday, 1 to 5 p.m.
Admission: Adults, $8; seniors and children under 17, $6; children under 5, free; families (two adults and their children), $20. Planetarium shows cost an additional $5.
Phone: 748-2372
Website: fairbanksmuseum.org
Nearby:
4. Shelburne Museum, Shelburne
You could spend an entire day at the Shelburne Museum and still not see it all. Electra Havemeyer Webb's vast collection of fine and folk art — 150,000-plus pieces — is displayed in 39 buildings around the property. Explore a historic print shop, jail or apothecary, take one of the daily tours of the steamboat Ticonderoga, or just stroll the grounds and gardens. There are special activities for children in the Owl Cottage Activity Center, plus art safaris and evening events, including a Harry Potter costume party in July. Crafty kids will enjoy this season's "Paperwork in 3D" exhibit, featuring origami, book arts and other paper-based creativity.
Hours: Open daily through October 30; hours vary — call or check website
Admission: Adults, $20; children 5 to 18, $10; children under 5, free; family day pass (two adults and two children 5 to 18), $50; Vermont residents half-price.
Phone: 985-3346
Website: shelburnemuseum.org
Nearby:
5. Rock of Ages, Graniteville
Rock out on a narrated tour of this 600-foot-deep granite quarry. Watch gigantic cranes in action and see quarriers cutting huge blocks of stone. The visitors center explains how Barre's granite industry drew immigrant stonecutters who helped Vermont export this signature product. The arches of the World War II Memorial in Washington, D.C., were made by Rock of Ages, and memorials all over the world feature Vermont's own Barre Gray, Bethel White and Salisbury Pink rock. Stop in at the factory during the workweek to view stone sculptors in action, try your own hand at a sandblasted art activity or bowl on the outdoor granite bowling lane.
Hours: through August 31: Visitors center, Monday through Saturday, 9 a.m. to 5 p.m.; quarry tours, Monday through Saturday, 9:15 a.m. to 3:45 p.m.; factory tour, Monday through Friday, 8 a.m. to 3:30 p.m.; sandblast activity, mid-June through mid-August, Monday through Friday, 10:30 a.m. to 4:30 p.m.; Saturday, 11 a.m. to 3 p.m.
Admission: For the guided quarry tour: adults, $5; children ages 6 to 12, $2.50; children 5 and under, free. Self-guided factory tours are free.
Phone: 870-9057
Website: rockofages.com
Nearby:
6. Lake Champlain Maritime Museum, Vergennes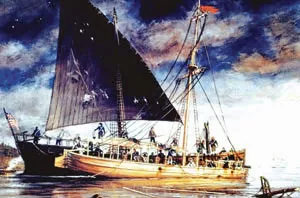 You'd never know it looking at Lake Champlain today, but this strategically located body of water has seen a lot of action over the years. The Champlain Valley's maritime history comes alive at this waterfront museum. Kids can step aboard the 54-foot-long Philadelphia II, a full-size replica of a Revolutionary War gunship that sank during the Battle of Valcour Island. And they can stand on the deck of the schooner Lois McClure. The LCMM is also home to a nautical archaeology center that studies shipwrecks, and visitors can tour these sunken "exhibits" using robotic cameras. The museum hosts multiple events throughout the summer, including the Kids Pirate Festival on June 11 and 12 (see spotlight, page 26). It's also home to the Blacksmith Arts Center.
Hours: Daily, 10 a.m. to 5 p.m., through October 16
Admission: Adults, $10; seniors, $9; students ages 5 to 17, $6; children under 5, free. Shipwreck-tour price: adults, $22 children, $18.
Phone: 475-2022
Website: lcmm.org
Nearby:
7. Mount Independence State Historic Site, Orwell
Teach your kids about early American history at one of Vermont's most important Revolutionary War sites. It's hard to believe, but according to the official Mount Independence website, the military complex there was one of the largest communities in North America in the summer of 1776. That's when 12,000 colonial soldiers built a fort to repel an expected British attack. Their preparations paid off — the redcoats retreated when they saw the fortifications at Mount Independence and Fort Ticonderoga. The British eventually captured the site, and later burned it. Today, trails crisscross the historical area and the remains of the fort.
Hours: Daily 9:30 a.m. to 5 p.m., through October 10
Admission: Adults, $5; children 14 and under, free
Phone: 948-2000
Website: historicvermont.org/mountindependence
Nearby:
8. Billings Farm & Museum, Woodstock
Kids get more than a view of the barnyard at Billings Farm — they get to feel the sheep's wool, touch the chicken eggs, pet the horses and enter the stalls. The museum, located in connected barn buildings, is also kid friendly, with no ropes or barriers to keep visitors from the displays on the culture and science of farm life. Also appealing are the wide-open fields, apple orchard and heirloom gardens kids can explore at will. Check out the Children's Corner of the museum shop for turn-of-the-century games like limberjacks and hoops for rolling, as well as other affordable fun — many items are just $1 or $2. Pack a lunch and picnic on the property, or grab an ice cream cone at the dairy bar.
Hours: Daily, 10 a.m. to 5 p.m., through October 31
Admission: Adults ages 16 to 61, $12 ; seniors 62 and over, $11; children ages 5 to 15, $6; children ages 3 to 4, $3
Phone: 457-2355
Website: billingsfarm.org

Nearby:
9. President Calvin Coolidge State Historic Site, Plymouth Notch
Two U.S. presidents were born in Vermont — Chester A. Arthur and Calvin Coolidge. Arthur's supposed birthplace in Fairfield is underwhelming, but Coolidge's is definitely worth a trip. The site consists of his family's home, a church, a one-room schoolhouse, a general store and the Plymouth Cheese Factory, which is still producing artisanal cheese. Many of the buildings still have their original furnishings. "Silent Cal" was actually sworn in as president at home, shortly after receiving an urgent message from Washington informing him of the death of President Harding. His father, the local notary public, administered the oath on August 3, 1923 — at 2:47 a.m., by the light of a kerosene lamp. Coolidge's grave is on the site, as well.
Hours: Daily, 9:30 a.m. to 5 p.m., through October 17
Admission: Adults, $7.50; children ages 6 to 14, $2; children under 6, free; family pass, $20
Phone: 672-3773
Website: historicvermont.org/coolidge
Nearby:
10. Bennington Battle Monument, Bennington
Vermont's tallest freestanding structure is not a skyscraper — it's a 300-plus-foot-tall stone obelisk that commemorates the 1777 Battle of Bennington. The battle itself took place in New York when the Brits tried to capture weapons and food stashed in Bennington. The American forces, including members of the Green Mountain Boys, won the day, which contributed to the British surrender. Learn more about the battle at the monument museum, and ride the elevator up to the observation point.
Hours: Daily, 9 a.m. to 5 p.m., through October 31
Admission: Adults, $2; children ages 6 to 13, $1; children ages 5 and under, free
Phone: 447-0550
Website: historicvermont.org/bennington
Nearby: