© Jay Boucher | Dreamstime.com
Smugglers' Notch
Vermont is known as the Green Mountain State for good reason. Options abound to get your family into the woods. From easy saunters to impressive peaks, there's no shortage of treks suited to all ages and abilities.
1. Smugglers' Notch
Although a paved road replaced the horse path in 1922, this narrow mountain pass still closes every winter. Dwarfed by 1,000-foot cliffs, it's easy to imagine the illegal trade of cattle and prohibition-era liquor that once took place here. Fugitive slaves made their way to Canada through the pass, too. Now, a short but strenuous climb leads to idyllic Sterling Pond. $2-4; free for children under 4.
2. Mount Mansfield
© Chicco7 | Dreamstime.com
Mount Mansfield summit
At 4,393 feet, the "chin" of this mountain is the highest peak in the state. While the Auto Toll Road reaches the top, several foot trails also lead to the rocky crest — composed of alpine tundra, plants and trees that date back to the last glacial age. While the hiking is strenuous, the panoramic views are worth the effort, with vistas of Lake Champlain and the Adirondacks, Mount Washington in New Hampshire's White Mountains and, on exceptionally clear days, Mount Royal in Montréal. $2-4; free for children under 4.
3. Owl's Head Mountain
courtesy laura sorkin
The top of Owls Head at Groton State Forest
This easy path rewards hikers with views of the surrounding water and mountains. Its gradual, 1.5-mile ascent traverses rocky steps constructed by the Civilian Conservation Corps, a work relief program for young unmarried men in the 1930s. Nearby, the Kettle Pond Loop Trail takes hikers on a three-mile saunter around this undeveloped and pristine pond. With more than 26,000 acres, Groton State Forest offers a range of hiking and camping options. Pick up a trail map and check out the exhibits and naturalist programs at Groton Nature Center (1595 Boulder Beach Rd.). Free.
4. Mount Tom
Locals and tourists alike love this gradual hike, with sweeping views of an idyllic Vermont village below. The 1,345-foot mountain is part of the Marsh-Billings-Rockefeller National Historical Park. The extensive gardens and mansion — whose earliest construction dates back to 1805 — are open for tours. Adjacent Billings Farm & Museum provides visitors with an up-close look at agriculture, with a restored 1890 farmhouse and plenty of cute farm animals. Free.
5. Mount Philo
Carolyn Fox
Mt. Philo State Park
If you stayed at the Mt. Philo Inn in 1903, your family might have taken a horse-drawn surrey ride to the mountain's 968-foot summit. Although the inn is still open, only traces of the road remain. Mount Philo, bequeathed to the State of Vermont by Mrs. Frances Humphreys, became the first of Vermont's state parks in 1924. Hikers who scramble up the three-quarter-mile trail are rewarded with a vista of Lake Champlain and the Adirondacks and plenty of picnic tables. Or you can drive to the summit — via modern-day motorized vehicle, of course. $2-4; free for children under 4.
6. Vermont Youth Conservation Trails
Three miles of trails — off-limits to motorized vehicles and bicycles — offer easy treks through roughly 400 acres of conserved land. Featuring a combination of old roads and new trails constructed by the Vermont Youth Conservation Corps, the varied terrain crosses active farmland in places. Every year, the Conservation Corps employs more than 250 volunteers to do hands-on farming and conservation work throughout the state. While at VYCC's Richmond barn headquarters, shop at their farm stand for local veggies. Free
7. Hubbard Park
Just behind the Capital City's golden dome, nearly 200 acres of ambling walking trails please nature lovers. Streams, shelters and picnic spots galore provide plenty of space to rejuvenate. At the park's highest point, a fieldstone tower constructed in 1915 offers photo ops of the landscape with a fine view of Camel's Hump. Free.
8. Robert Frost Interpretive Trail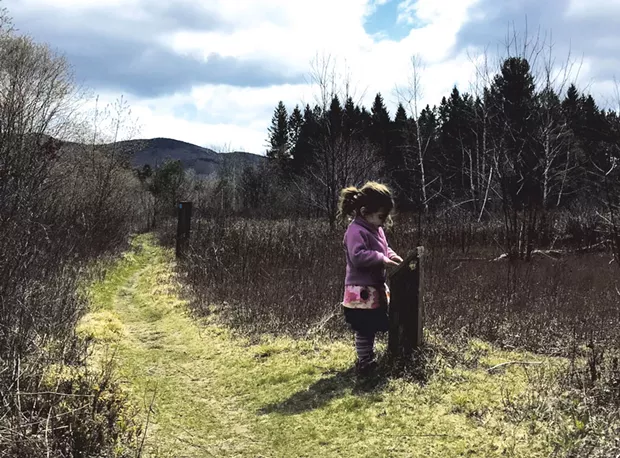 Megan James
Zara Trump on the Robert Frost Interpretive Trail
This one-mile, toddler-friendly trail pairs plaques of Frost's famous poetry with a scenic route dotted with blueberry bushes and birches. Across the road lies Frost's cabin, where the acclaimed poet summered for 39 years and wrote prolifically. Although New Hampshire claims Frost as its own, the poet is buried in a church cemetery in Old Bennington. He ended his Pulitzer Prize-winning poem "New Hampshire" with the line, "At present I am living in Vermont." Free
9. Mount Abraham
Named after the 16th president — "Honest Abe" Lincoln — this 4,016-foot peak is the fifth tallest in the state. A five-mile round-trip hike features relatively smooth terrain in the beginning, with more strenuous climbing near the final ascent. Inquisitive hikers might want to check out the wreckage from a 1973 Cessna plane crash, not far from the summit. The pilot, fortunately, made it off the mountain alive. Free
10. Niquette Bay State Park
Vermont State Parks
Niquette Bay State Park
This day-use park with wooded terrain, notched into the larger Malletts Bay, was largely farmed through the 1800s. On the eastern side, a sandy beach provides access to Lake Champlain. On the western side, sheer limestone cliffs rise from deep water to heights surpassing 60 feet. A trail system offers hikes suitable for toddlers or teens, with a half-mile option for those looking for just a short jaunt. $2-4; free for children under 4.