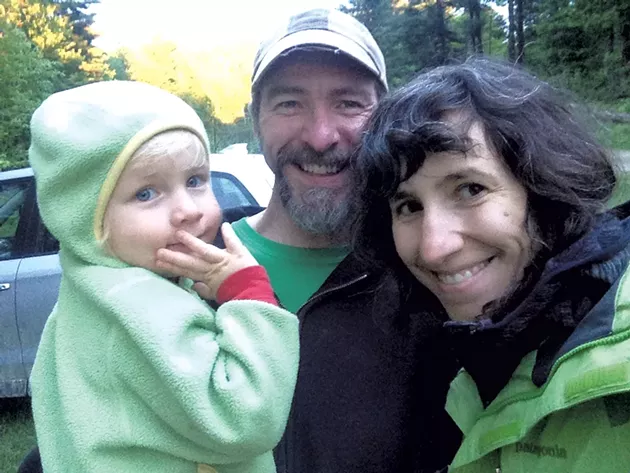 courtesy of debi waters
The family of three
From Memorial Day to Columbus Day, my family resides in a camper at Silver Lake, an exclusively hike-in, bike-in campground in the Moosalamoo National Recreation Area, in the Green Mountain National Forest. It's the second summer that I, my husband, Bryan, and our son, Emmett, have volunteered there as campground hosts through the U.S. Forest Service. During the non-summer months, we live in Ripton. Bryan and I keep opposite work schedules — I'm an assistant innkeeper at Blueberry Hill Inn in Goshen, and Bryan is an architectural designer for Addison Residential in Middlebury — so we can care for Emmett, 2, and always have someone at Silver Lake. The following account is a typical Saturday for our family.
6:30 a.m. I roll out of bed, throw on my work clothes, and grab my toiletry bag and a banana as quietly as possible, so as not to wake up Emmett and Bryan. I arrive at the inn, pull myself together in the bathroom and punch in. Time to drink lots of coffee and serve breakfast to guests. I saw some of them hiking at Silver Lake yesterday, and I'll tell others how to get there today.
8:47 a.m. "Dada! Wake up! I gotta pee! I want to go outside!" says Emmett. Bryan and Emmett head outside to take care of business while fending off mosquitoes.
9:15 a.m. French press is brewing, and Bryan has already read Green Eggs and Ham three times. Emmett and Bryan make the short move from the camper couch to the camper dining table to eat breakfast — oatmeal with chia, blueberries, yogurt and a little maple syrup.
9:45 a.m. Bryan loads up the Chariot stroller with rakes, trash bags, shovel, toilet paper, bucket, trash grabber, snacks, and extra clothes and wipes for a potty-training toddler. Bryan and Emmett head to the picnic area to look for yesterday's litter. They peruse the beach and check the progress of the ripening raspberries. Then they clean campsites and score a left-behind tiki torch with extra fuel.
courtesy of debi waters
Emmett collects trash
12:14 p.m. Back at the camper. Emmett gets drowsy while eating a lunch of hummus, cheese, crackers and some snap peas from our CSA. With each bite, he closes his eyes a little longer. Bryan scoops him up and puts him down to nap.
12:30 p.m. I return from work and join Emmett for a nap.
12:31 p.m. While Emmett and I sleep, Bryan talks to a steady stream of day hikers who trickle in from the two trailheads — one in Goshen and the other near Branbury State Park. Comments include: "Hey, what a sweet setup!" and "We just saw a bear!"
2:12 p.m. Emmett and I wake up and join Bryan outside to eat fruit under the canopy. Emmett yells "Hi!" to groups of people as they reach the top of the trail near the camper. He's had plenty of practice as a host.
3 p.m. Daily call to Rochester Ranger Station to report that we need more toilet paper for the three bathrooms. Also, there's a tree down on the Leicester Hollow Trail, making it difficult for mountain bikers to pass, which will require a chain saw.
3:26 p.m. A friendly Green Mountain Power employee rolls in to check on the dam. With all the rain recently, it has to be closely monitored. Emmett announces their arrival and runs over to say hello. Silver Lake is part of a hydro project and powers many homes in the area, including our camper.
courtesy of debi waters
The family's campsite
5 p.m. I leave again to serve dinner at the inn for the second half of my split shift. Bryan puts Emmett in the backpack, and they head out on foot to register campers. Silver Lake has no fees for camping; it's first-come, first-served, and it's important to check in with everyone and learn their plans.
5:32 p.m. At Site 8, campers from last year remember Emmett. They can't believe how much he's grown.
6:12 p.m. Back to the camper for dinner — turkey burgers and corn on the cob — with a brief interruption from a mountain biker who needs to borrow an air pump.
7:30 p.m. Berry picking, bike riding and an evening swim in an attempt to wear down a hardy toddler.
9 p.m. Bryan wrangles Emmett into the camper as the sun sets, winding down with picture books. Emmett falls asleep clutching his headlamp.
10:30 p.m. I return with dessert left over from dinner at the inn — chocolate pots de crème. Bryan and I enjoy them together and reflect on another lovely day at the pristine Silver Lake.
Volunteer Yourself!: To find out about becoming a campground host, and other volunteer opportunities, visit volunteer.gov.