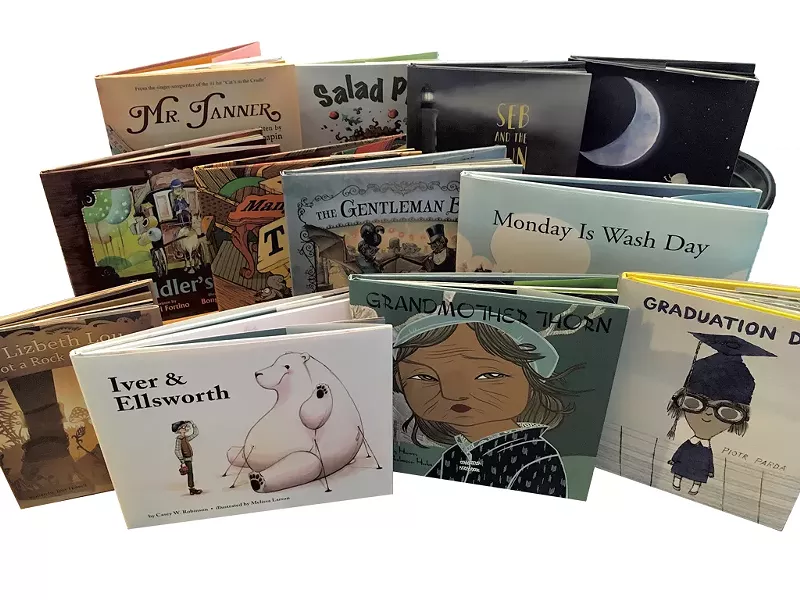 The idea for Ripple Grove Press dates back to 2012, when Rob Broder spent long hours alone in his car while selling sweets for Lake Champlain Chocolates. A new father in those days to a baby daughter, he and his wife, Amanda, read numerous picture books and discussed what they liked and disliked. Broder, a former preschool teacher, had always been passionate about storytelling and children's literature. After a lot of thinking on the road, he suggested to Amanda that they start their own picture book press. "A week later, she said, 'OK, let's try that,' " he recalled.
Nearly six years after opening Ripple Grove's doors, Broder receives paper and email submissions every day, from all over the world. With 16 titles to date, the press' catalog includes Grandmother Thorn, which received a 2018 Anna Dewdney Read Together Award, an honor given in memory of the late Llama Llama series author; Monday Is Wash Day, printed in English and Korean; and Broder's own picture book, Paul and His Ukulele, illustrated by Jenn Kocsmiersky of upstate New York.
Broder also works as a consultant for writers and illustrators. Last summer, he signed two of his own books with larger presses — Simon & Schuster and Sasquatch Books/Little Bigfoot — with release dates in 2020. With his wife busy as Teaching Academy coordinator at the Larner College of Medicine at the University of Vermont, Broder manages all aspects of Ripple Grove, from creative direction to marketing and distribution. "I love everything about it," he said.
From his home office in Shelburne — where the couple reside with their 8-year-old daughter — Broder spoke with Kids VT.
KIDS VT: What's the story behind the name Ripple Grove Press?
ROB BRODER: Ripple Grove is an imaginary place that I made up as a preschool teacher. I would tell the kids about this place, Ripple Grove, and I made it feel like it wasn't too far from where they lived. There were fairies and troll-like characters and underground tunnels and things like that. So Amanda thought of the name Ripple Grove Press.
KVT: How does your press differ from larger publishing houses?
RB: One of our goals from when we first started Ripple Grove was finding really talented artists who may not have been discovered by the larger presses yet. A lot of our illustrators and authors have gone on to larger presses.
KVT: How do you select books from the many submissions you receive?
RB: I'm picky, and I struggle to find something that resonates with us and represents our press. We're looking for something really timeless, really wonderful, really sweet, and it would be helpful if it were unique or just slightly different ... We have to talk about, Will this story sell?
KVT: What makes a story sell?
RB: The writing. I can tell 12 people in a room to write me a story about a duck on a farm, and I'm going to get 12 different stories — or I might get 12 all the same — but it all depends on how the author writes the story ... It really comes down to the writing style of that story and if, when I'm reading it, I can visualize the story so clearly without having illustrations. It's good when they've really brought me to that farm, or that duck, or whatever that story is about.
KVT: Tell our readers a little about Ripple Grove's February 5 release, The Full House and the Empty House, written and illustrated by LK James.
RB: The way we received it was really great ... (at a writers' conference), Amanda came home with a little 4-by-4 book that this artist had made. I called LK Monday morning ... We just edited it a bit — maybe a smidgen — or tweaked a few words ... It's a beautiful book, and I'm really proud of it.
KVT: Any advice for readers who want to submit a children's book to Ripple Grove Press?
RB: We strive to make a book that someone reads over and over and that finds the cozy spot in someone's home, or the library, or classroom — to sit and look at and explore and read again the next day ... I would love to know someone read this article and submitted to us. We're just trying to find that next little gem.