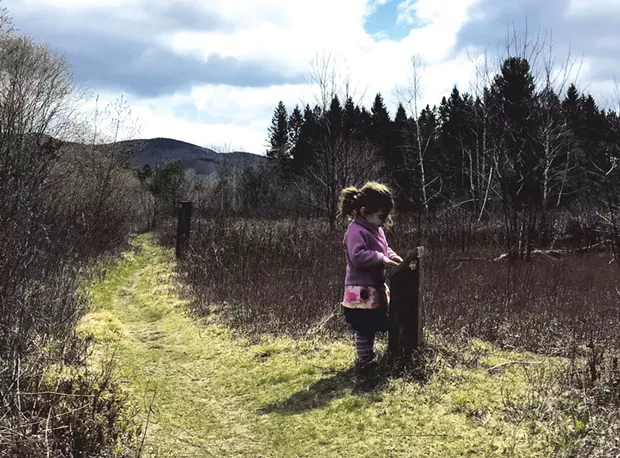 Megan James
Zara Trump on the Robert Frost Interpretive Trail
I used to hike to get somewhere. If there was no big payoff at the end — a 360-degree view or a breathtaking waterfall — I just wasn't interested. What's the point of walking in the woods if you're not going to see something spectacular?
Then I had a kid.
Hiking with a toddler is, well, different. It might take my 2-year-old daughter, Joni, and I two hours to walk a single mile. It can be frustrating, unless I consciously slow down and let her take the lead. These days, we don't hike — we meander. Which is why my family loves the Robert Frost Interpretive Trail in Ripton.
Ripton is Robert Frost country. The cabin where the poet spent 39 summers — and where he wrote many of his well-known poems — sits at the end of a long dirt road off Route 125, just west of the Bread Loaf School of English. Cross the road and you'll find the one-mile loop dedicated to Frost's words and the landscape that inspired them. The trail winds over rivers and streams and through blueberry patches and leaning birch trees. His poems, and other quotations, are posted on plaques throughout the woods.
A rustic wooden sign at the trailhead offers this advice: "To enjoy this trail, please take your time and leave nothing but footprints."
Megan James
Joni Houghton takes a break from hiking
Joni and I walked the trail one morning in May with her 2-year-old friend, Zara Trump, Zara's dad, Jeff, and their dog, Diego. It'll be a while before these girls get the gist of "Nothing Gold Can Stay," but they quickly found something else to obsess over: touching each and every blue blaze that marked the trail.
Notable plants are identified on toddler-high wooden signs throughout the woods. Their whimsical names made us feel like we were traipsing through an enchanted forest: meadowsweet, hay-scented ferns, beaked hazelnut, lowbush blueberry, wild raisin and, my personal favorite, the interrupted fern. Zara stopped at each one to trace her fingers along the letters and sing the alphabet song.
We stopped for a snack on a bench overlooking a rolling meadow and a gnarly old tree. (Older kids would have a ball climbing its easily accessible branches.) The rest of the walk took us over several bridges, a few babbling brooks and a pebbly beach where we threw rocks into a river while Diego went for a swim.
And, yes, at one point along the trail, two roads diverged in a wood. And we — we took the one ... well, actually, both seemed equally well traveled. So we let the toddlers decide. And that made all the difference.
Pros
At only a mile long and mostly flat, it's perfect for toddlers.
A public bathroom is open during the summer months at the start of the trail.
Cons
No grand vistas or exhilarating peaks.
Robert Frost Interpretive Trail, Route 125, Ripton