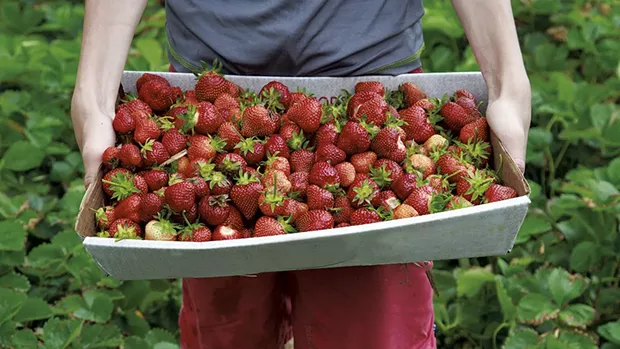 1. Adam's Berry Farm
Stock up on fresh organic blueberries and raspberries at this community-focused farm. Sweaty kids can grab a fruity popsicle from the cooler in the on-site farm store.
2. Brown's Beautiful Blueberries
Widely spaced bushes make for easy picking at this hillside Northeast Kingdom patch with a stunning view of Craftsbury Common. Bring your own containers.
3. Cedar Circle Farm & Education Center
Strawberries and blueberries are not the only attraction — families can also enjoy a sandbox, kid-friendly chickens and a self-guided farm tour. Bring a picnic or purchase fresh-baked pastries and fair-trade coffee at the on-site Hello Café.
4. Fisher Brothers Farm
This family-run farm grows blueberries, blackberries, raspberries, elderberries and antioxidant-rich aronia berries. Get 'em pre-picked or harvest them yourself. Visitors can also purchase sweet corn, sunflowers and squash — plus hand-churned berry ice cream.
5. Hartshorn Organic Farm
Find organic strawberries, blueberries and vegetables galore at this Mad River Valley farm. There's a maple sugarhouse, too.
6. Isham Family Farm
Fifth-generation farmer Mike Isham welcomes youngsters for blueberry and raspberry picking in his fields, where chickens provide pest control. A daily voicemail recording explains what's in season — in August, it's sweet corn; in the fall, pumpkins.
7. Last Resort Farm
The Doyle-Burr family has been growing organic strawberries for more than 30 years. Their berry patch has specially marked "toddler rows," where little ones can pick freely. Raspberries, mulberries, and red and black currants are also available — by appointment only.
8. Norris Berry Farm
Find abundant blueberries, raspberries and vegetables at the farm stand; call ahead for pick-your-own availability.
9. Owl's Head Blueberry Farm
From mid-July to mid-August, pick at least two quarts of blueberries to gain admission to the farm's Tuesday evening concerts. Bring a picnic, blanket and chairs if you like.
10. Sam Mazza's You-Pick Berries
Pick your fill of strawberries, blueberries and raspberries at this 350-acre family farm, then check out the petting zoo, playground, retail market, bakery and greenhouse. Come back in the fall for the corn maze.