Daryl Burtnett
Vermont Statehouse
Measuring by population, Montpelier — home to fewer than 8,000 souls — is the smallest state capital in the U.S. It's also the only one without a McDonald's. There are no golden arches in Montpelier (pronounced "Mont-peel-yer"), but there's a golden dome. It sits atop the Vermont Statehouse; from January to May, members of Vermont's part-time legislature roam the building's historic halls. Montpelier also boasts a museum, a woodsy park, and lots of locally owned shops and restaurants. The surrounding areas offer many biking and hiking options, foodie-approved pit stops and one very famous factory.
Attractions
1. Vermont Statehouse
Built in 1859, Vermont's Statehouse is one of the nation's oldest and most accessible capitol buildings. Highlights include the beautifully restored House and Senate chambers, as well as a noteworthy art collection. Don't miss the giant oil painting of the Civil War battle at Cedar Creek; soldiers from Vermont played a vital role in that Union victory. Visitors are welcome every day but Sundays and state holidays — free guided tours are available from July through October. Lounging on the lush front lawn is encouraged anytime.
2. Vermont History Museum
Walk through an Abenaki wigwam and belly up to the bar at the Revolutionary War-era Catamount Tavern — meeting place of Ethan Allen's Green Mountain Boys — at this hands-on history museum. The price of admission includes entry to the Vermont Heritage Galleries in neighboring Barre. $
3. Ben & Jerry's Factory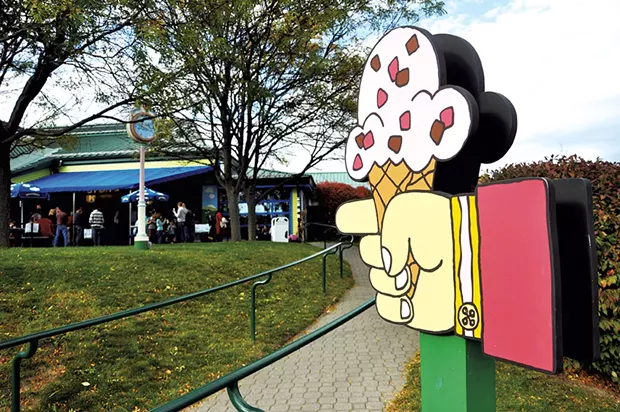 Dreamstime
Ben & Jerry's Factory
No trip to Vermont is complete without a stop at the Ben & Jerry's Factory in Waterbury. Friends Ben Cohen and Jerry Greenfield founded the ice cream company in 1978 in Burlington; its first scoop shop was in a renovated downtown gas station. A 30-minute guided factory tour explains how the company fulfills its social mission to make the world a better place.Visitors also get a peek at the production process and get to sample the sweet stuff. Don't miss the Flavor Graveyard outside, located behind the playground. Erstwhile varieties like Wavy Gravy and Rainforest Crunch have their own headstones. $
4. Stowe Recreation Path
Jeb Wallace-Brodeur
Stowe Recreation Path
Bike or walk on this 5.3 mile paved route, which crisscrosses the Little River's West Branch. Numerous entry and exit points offer access to restaurants and local stores, and, on Sundays, a farmers market. In addition to flower-strewn meadows and mountain views, from mid-July until mid-October bikers and walkers can see a series of large contemporary sculptures, courtesy of the Helen Day Art Center's outdoor exhibit, "Exposed."
Food & Drink
5. Red Hen Baking
Famous as leaders of the local food movement, these bread bakers serve up delicious pastries, sandwiches and soups in a cozy coffee-shop atmosphere.
6. The Blue Stone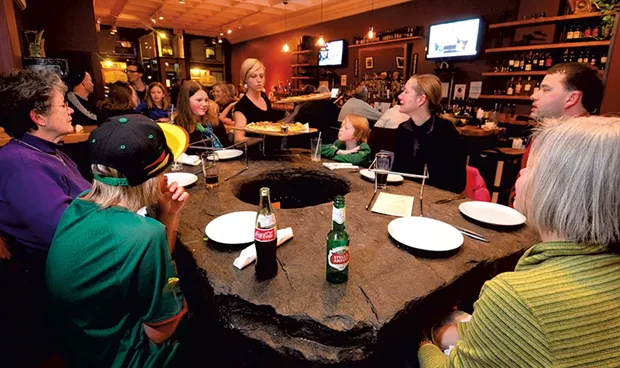 Jeb Wallace-Brodeur
The Blue Stone (Waterbury)
Picture hand-tossed pies topped with seasonal ingredients, fresh salads and locally sourced burgers, served up in a relaxed atmosphere.
7. Pete's Greens Waterbury Farm Market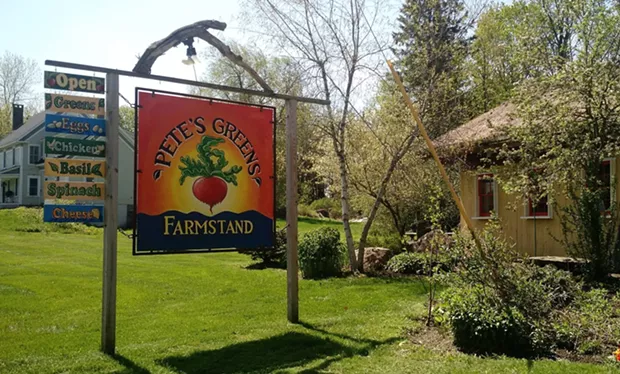 This market showcases a diverse array of Vermont agriculture, from farm-raised meats and small-batch cheeses to raw honey and prepared foods.
8. Depot Street Malt Shop
Burgers, fries and the thickest milkshakes in town feed hungry families at this '50s-style diner.
Family-Friendly Hikes
9. Hubbard Park
Nearly 200 hilltop acres provide easy walking trails and plenty of picnicking spots. At the park's highest point, a stone tower built in 1915 offers an amazing view of the capital city ringed by mountains — including a fine photo op of iconic Camel's Hump.
10. Stowe Pinnacle
Brooke Bousquet
Noah at Stowe Pinnacle
A local favorite, this moderate hike ascends through thick forest. At its rocky summit, savor views of the quaint village tucked into a pristine landscape.
11. Smugglers' Notch
Closed to car travel in winter, the tippy top of Route 108 switchbacks sharply to a narrow pass. Make a pit stop and let the kids scramble over a jumble of boulders, which long ago hid Underground Railroad travelers and Prohibition-era bootleggers. A steep but short hike leads to the spectacular Sterling Pond and stunning views of the Smugglers' Notch ski area.