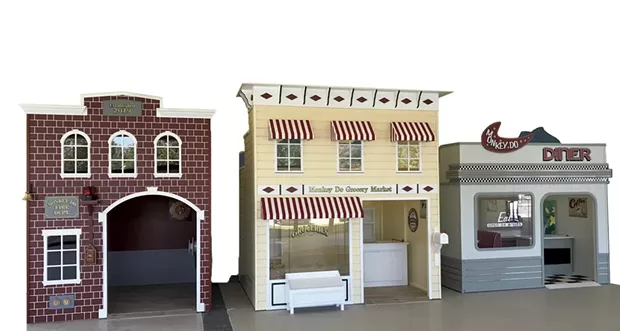 Courtesy of monkey do
Monkey Do
Several years ago, Claudine Safar of Williston was vacationing with her husband, Jeff Teplitz, and two young children in Mont-Tremblant, Québec. The family was enjoying an action-packed itinerary of hiking, rock climbing and kayaking when it started to rain. Safar googled indoor kids' activities in the area and came across a local play space in a former ski lodge. The kids "just ran around in circles for two hours and had a blast," Safar remembered. "We thought to ourselves, Why don't we have one of these? Fast forward a few years, and Safar, Teplitz and Safar's law firm colleague, Brian Monaghan, are bringing the concept home. Late this month, Monkey Do, a 12,000-square-foot play space for ages 1 to 11, plans to open in Williston, in the space formerly occupied by Harvest Equipment. The sprawling center will have a toddler area, a preschool play structure with a 40-foot slide and three playhouses (pictured above), a craft area, an inflatable obstacle course, and two birthday party rooms, said manager Jade Menard. There will also be a café with a creemee machine, kids' snacks and — key for parents — coffee. With no electronic devices, flashing lights or dinging bells in sight or earshot, Monkey Do will give kids a place to be both physical and creative, Safar said, "and [it's] not taking quarters out of my purse to try to get a stuffed animal they'll never win."

Monkey Do is located at 64 Harvest Lane in Williston. Entry will be $15 per child. Find the latest information on Facebook at Monkey Do VT.