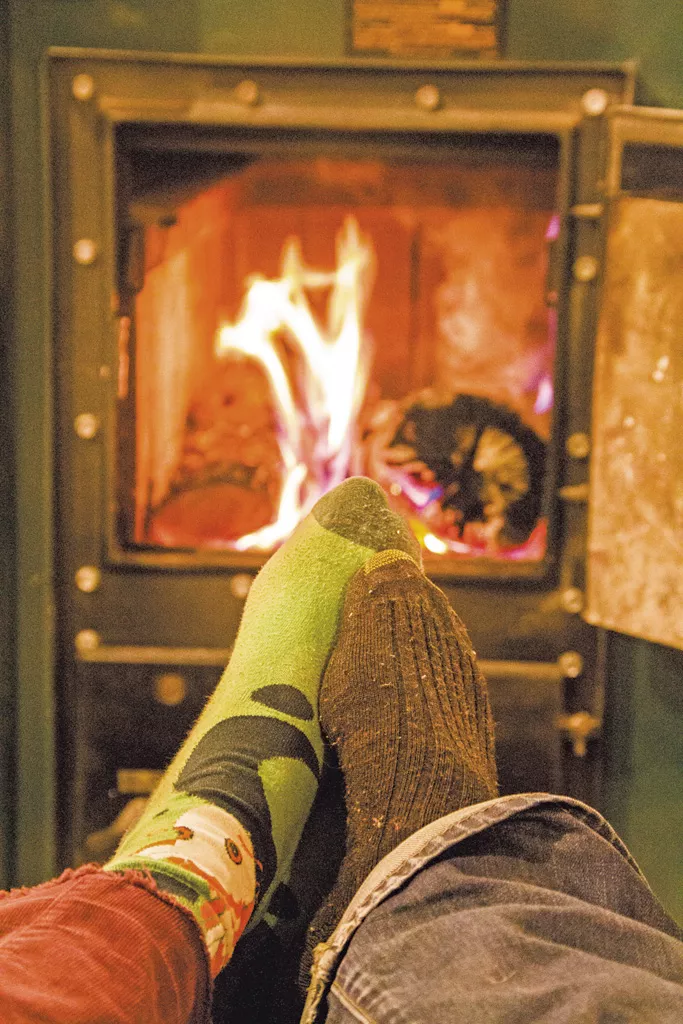 megan james
Romance by the fire
Parenting has brought my husband, Daniel, and me closer in many ways, but it's also strained our relationship. Couple time has been elusive since our daughter, Joni, was born nine months ago.
When she was just 9 days old, we bundled her into the Moby wrap and ventured to Pizzeria Verità in Burlington for my birthday. I spent the whole time checking to make sure she was breathing.
In the months that followed, Daniel and I made the occasional foray to Mule Bar in Winooski to scarf down chicken wings while Joni slept in the frontpack. Often she'd start wailing, and whichever of us was wearing her would have to leave to take a brisk walk around the block.
Now that she has a regular bedtime, Daniel and I rarely leave the house together after 6:30 p.m.
I love being a mother and adore watching Daniel blossom as a father, but I miss the old us. And so does he.
So we've started hanging out together in our unfinished basement.
We recently bought our first house, which has a wood-burning furnace in the basement. When outside temps plunged below zero a few weeks ago, we put Joni to bed and took our dinner downstairs.
Our subterranean getaway isn't glamorous; it's a concrete room filled with clutter, a washer and dryer and our cat's litter box. But when we opened up the furnace door, switched off the lights and cozied up to the fire, we felt transported to another time and place. We talked to each other, without interruption, for the first time in months.
When you're a parent, one-on-one time with your partner can feel invigorating and exotic. And it leaves you wanting more.
In honor of Valentine's Day on February 14, Kids VT devoted this issue to one of the biggest challenges of being a parent: keeping romance alive. Thankfully, Daniel and I got to be one of four pairs of parents assigned to go out on, and write about, unconventional dates in "Need a Night Out?" (p. 18). In "Go Ask Dad" (p. 16), we generated even more ideas when we interviewed local fathers about the best dates they've had since becoming parents. And in "Use Your Words" (p. 55), executive editor Cathy Resmer wrote about how purchasing a pair of electronic fitness trackers helped her reconnect with her partner — literally one step at a time.
We hope these stories remind you that you don't need to splurge on an extravagant night out to reignite the spark with your partner. A night in — by the heater — may be all you need.