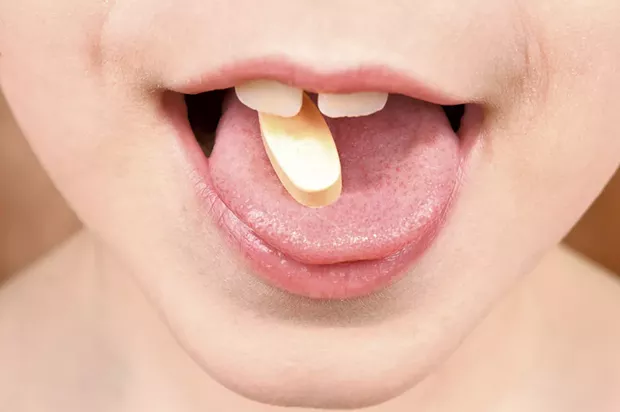 Mary Poppins was right: A spoonful of sugar can help the medicine go down. But Dr. Lewis First, head of pediatrics at Vermont Children's Hospital at Fletcher Allen Health Care, has other tricks up his sleeve. He shares some dos and don'ts of dosing this month, as kids head back to school — and into cold and flu season.
KIDS VT: What are some common drug-dosing errors parents make?
LEWIS FIRST: Parents can do more harm than good with over-the-counter medicines if they don't know what's in them. Many people don't realize that cough and cold medicines for older children sometimes contain acetaminophen. Too much of it can be harmful, so be careful not to double-dose kids with another medicine that may already contain it.
And parents are often confused about how much to give their child. Best to use the dosing instrument that comes with the medicine. When parents start to measure medicine on a teaspoon or tablespoon from their kitchen, they can end up with twice as much as the recommended dose. Stop thinking in terms of teaspoons and tablespoons and look at the measurements in milliliters to avoid an over- or under-dose.
KVT: How important is a drug's expiration date?
LF: It's very important. After the expiration date, the medication may not do what it's supposed to. Often the chemicals decompose and can actually make your child sick.
The other issue is, even if a child is feeling better after a day or two of taking an antibiotic, he or she still needs to take the full duration until the antibiotic is gone. Some parents will say, "My child is fine," then leave the medicine with five or six days of dosing left. Then, the next time the child is sick, they'll pull out the antibiotic because it worked the first time when, in fact, the child may not need an antibiotic. The more that a bacterial organism sees an antibiotic and survives, the more likely it can become resistant to it.
KVT: Some medications give doses by age; others by weight. Which one should parents follow?
LF: Parents should be dosing medication based on weight, not age. The pharmacist can show you the appropriate line to use on the medication syringe.
KVT: Why do some children's medications taste awful and others like candy?
LF: The ones that taste good have added artificial flavoring, but for some medicines, a chemical flavoring would affect its efficacy, so the manufacturer won't add one. If there are medicines that children don't like to take, parents can ask the pharmacist if there are flavorings that can be added later that won't affect its efficacy.
KVT: Any tricks for getting a young child to swallow yucky medicines and pills?
LF: Assuming the pharmacist says it's OK, the child can suck on a Popsicle. The cold numbs the mouth and taste buds, and the Popsicle flavor helps mask the taste. If you crush up a pill — as long as it's not an extended-release tablet — you can put it in small amounts of foods that the child won't have to chew, such as vanilla yogurt, chocolate pudding, ice cream or apple sauce. You can dilute a liquid medication in juice, as long as the doctor or pharmacist says the juice won't inactivate the medicine.
KVT: At what age can children learn to swallow pills whole?
LF: We usually start introducing pills at around age 5 or 6, though some children can do it sooner, if they're developmentally ready.
KVT: Is there a trick to it?
LF: You can introduce the concept by starting with those tiny sugar-ball cake decorations. Put one on your child's tongue before he or she sips a favorite drink through a straw. Next, ramp up to a mini-M&M, then a full-size M&M. You can even play games, like "beat the clock" — once your child has successfully swallowed candy without chewing it — to make the swallowing more fun.
Another trick: Insert a pill into a Jell-O cube. It's great for disguising the bitterness and getting the pill to slip down the child's throat. Always praise children when they master it.
KVT: Anything else?
LF: Parents should be very matter-of-fact about administering medicine. It's not a negotiation; parents should never ask, "Are you ready to take your medicine?" Instead, they should say, "It's time for your medicine. Let's see how well you can take it." The positive approach goes a lot further.
Finally, giving medicine shouldn't be automatic, especially cough and cold medications, which can cause potentially serious side effects in children under 4 years of age. Parents shouldn't give their kids cough and cold medicines without talking to their doctor to truly understand whether the benefits will outweigh the side effects. The evidence is not strong that these medications do much to relieve symptoms — and they certainly don't make the virus go away any sooner.