The baby-book industry is full of advice for moms-to-be about what to expect during maternity and early childhood. Got a question about Braxton Hicks contractions? Exercising while pregnant? Prenatal nutrition? The answers await in one of many best-selling guides.
But if you're a woman heading back to work in the weeks after becoming a mother, good luck. There's no be-all, end-all handbook for balancing profession and parenthood.
That leaves Vermont parents to negotiate the transition back into the workforce as best they can. Seventy-one percent — with children under the age of 6 — are working at least parttime, according to the Kids are Priority One Coalition. An estimated 40,000 Vermont children are, at least at some point, in the care of someone other than a parent.
"This is not just a small segment of the society," says Kids Are Priority One organizing director Kelly Ault.
Kids VT spoke with three women about how they managed expectations in those first few months. One works part time. Another brings her baby to the office. The third, a classroom teacher, counted down the hours she had to be separated from her baby. There's no one right way to balance work and family, but increasingly, there are more options to consider.
It Gets Easier
Lindsey Halman has come to the well-worn conclusion that having a child "changes everything." Since she gave birth to daughter Aila in late 2010, the 33-year-old teacher had to make some major adjustments, including to the way she views herself as a professional. An educator at Essex Middle School, Halman takes pride in her work: She knows she plays an important role in the lives of her students.
Finances required that Halman return to work post partum. Her husband is a doctoral student at the University of Vermont, and the young family depends on Halman's income. Between parental leave and scheduled school vacations, she managed to eke out 14 weeks at home with Aila. She knows she was lucky to have so much time at home, and her husband's flexible schedule allowed him to take off four weeks as well.
"Those first months were amazing," Halman says. "I tried to soak up every moment."
Then March rolled around, and with it, the end of Halman's maternity leave. Not quite ready to send Aila to a childcare center — "She was so young," Halman says — she and her husband, Josh, interviewed close to a dozen possible nannies before Halman returned to work. Finally, through word of mouth, they found someone who could care for Aila until the end of the school year. Halman says that having one person at home with her baby, who could maintain Aila's routine and give Halman regular updates, eased the new mom's mind.
But returning to work was no picnic. On particularly emotional days, Halman counted the hours until she could go home to Aila. "The first month, I was definitely an emotional wreck most days."
Striking the balance between "mom" and "teacher" was complicated by Halman's own — very high — expectations of herself. She was a self-described "workaholic" before Aila was born, on the job "nonstop." Suddenly, though, she had 46 children at school in need of attention and one more waiting for her at home. She didn't want to shortchange her students, but she also longed to spend time with her new baby.
Something had to give.
"You can't be 100 percent at both parenting and your job. That sometimes is frustrating, because I liked to do things at 110 percent before," Halman says. Running on very little sleep, she had to accept the fact that she wasn't always in top form. She worried if her coworkers noticed, what they would think of her, etc. But since many had small children of their own, it wasn't a big deal.
"We all have families, and that's our priority," Halman says. If need be, she adds, "we'll cover each other."
The good news: The balancing act got easier. Halman became more efficient at work, which meant she could focus on her baby at the end of the day. And, after pining for Aila for those first few weeks, she's happy at work again. The little girl attends childcare at the YMCA and "she loves it there," Halman says.
"I feel good about being a teacher and the work that I do," she says. "When I have the time with Aila, it makes that time even more special, because I know that time is limited."
The Part-Time Fix
Laura Rabinovitz never doubted that she'd go back to work after giving birth to twin girls. It was partly a financial decision; daycare is expensive, especially when you're in the market for two spots. But Rabinovitz, a psychotherapist, suspected that she wouldn't be happy at home full time. "The first couple of months were very hard," she says, especially because her daughters were born in the winter and it was difficult for her to get out.
So she and her husband started the hunt for childcare early. In the end, they chose to hire a nanny for the first year, because it wasn't that much more expensive than daycare for two. It came with its own challenges, like getting used to being a boss. But Rabinovitz says the nanny certainly made it easier to get out of the door in the morning. If daughters Stella and Lucy were sleeping, or still in their pajamas, it didn't matter: Daycare came to them.
In some ways, Rabinovitz says going back to work was a relief. Leaving the twins and heading to work meant she found herself in an office that was quieter and more peaceful than her life at home.
"It's a lot less work to be at work than it is to be at home," she notes.
Of course, she missed some Kodak moments — Lucy turned over for the first time the day Rabinovitz went back to work. But she counts herself lucky that she didn't second-guess or fret about her decision to return to work part time. Spending 24 hours a week away from her children is a far cry from spending 40 or 50 hours a week at the office, she says, and because of that she feels she didn't face many dilemmas as a working mother.
Her husband also has a flexible work schedule.
Now that the girls are older, they're in daycare. Rabinovitz believes they benefit both from socialization with other children and from learning to trust more than just two adults in their lives.
"I love my kids to death, but being with them 24/7 isn't the way I choose to express that love," Rabinovitz says.
Best of Both Worlds?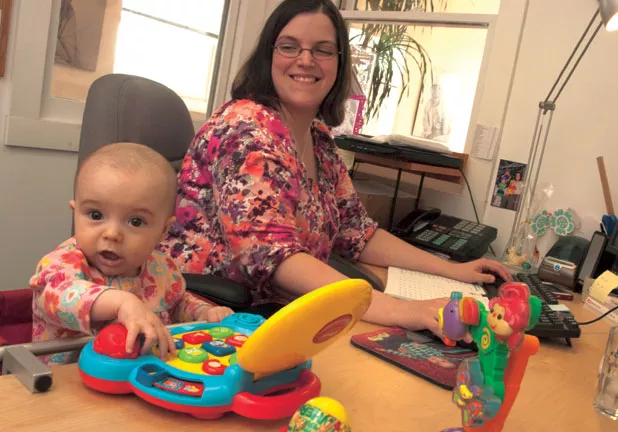 Brynn with daughter Amelia Evans
Thanks to an innovative "bring your baby to work program," Brynn Evans may have it all. An accounting and HR administrator at Zutano, the Cabot-based children's clothing manufacturer, Evans is able to work in the company of her 6-month-old daughter Amelia. While Evans fires off emails, makes calls and dashes between meetings, Amelia focuses on the business of naptime and a pile of brightly colored toys.
Zutano's program allows Evans to bring Amelia to work for the first year of her life. For new parents whose jobs can't be done with a baby close at hand, the company chips in for offsite childcare costs.
Surprisingly, though, the unusual set-up presents some challenges. "She is with me 24 hours a day, every day, plus I'm trying to work," Evans says. In some ways, that has made this transition more difficult than the one with her first child, David. Evans went back to work — sans baby — just four weeks after her son was born. Her mother provided daycare, and still does, for the now 3-and-a-half-year-old boy.
With Amelia by her side, Evans never really gets a break from the baby or enjoys any adults-only time. Amelia is also clingier than her older brother was as a baby, a difference that might be due in part to spending so much time with mom.
The logistics of juggling work and baby are in constant flux. "Just when you think you know what your child's schedule is," it changes, Evans says. That makes it hard to plan meetings or phone calls — which would ideally take place when Amelia is napping or playing quietly.
Nonetheless, Evans is deeply appreciative of the chance to be with Amelia. She says she feels productive in the office and can meet her deadlines — all while being able to breast-feed and watch her baby grow.
Plus, having a little one around, she says, "gives you something to smile about." And that applies to Evans' coworkers.
While she acknowledges that the arrangement wouldn't work for every mom, or every company, Evans thinks other businesses should give the unusual program a try. She thought she might take advantage it for four months or so, but it's already been six. Soon enough, Amelia will be "out of the office," spending one or two days a week with her brother and grandmother.