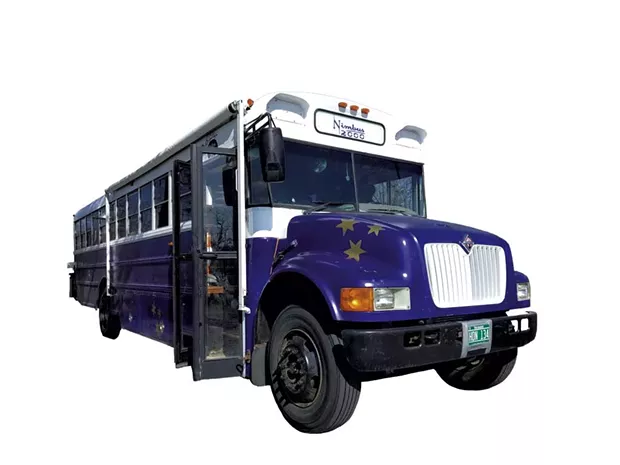 COURTESY OF GRACE AHMED
The Nimbus 2000 in College Park, Maryland
Three years ago, Kyle and Katie Clark bought a retired school bus and spent months gutting it and outfitting it with bunk beds, a kitchen, plumbing, an electrical system and water tanks. They painted it purple, added Harry Potter details — a silver stag Patronus above the king-sized bed; cauldron and owl decals; and stars painted on the outside — and named it Nimbus 2000, after Potter's flying broom. (Kids VT featured the project in August 2016.)
After enjoying many trips in their eye-catching ride, the Underhill family of six sold the Nimbus 2000 last fall to the Ahmed family of Burlington. Grace Ahmed, a former schoolmate of Kyle and Katie, said she found out the Clarks were selling the bus in a Facebook post. Her family — husband, Ishmael, and their five children, 12-year-old Ezra, 11-year-old Nahum, 9-year-old Enoch, 7-year-old Mitzi and 1-year-old Rivka — are indeed Harry Potter fans, but the major selling point for the vehicle was that it had seven seat belts for their seven family members.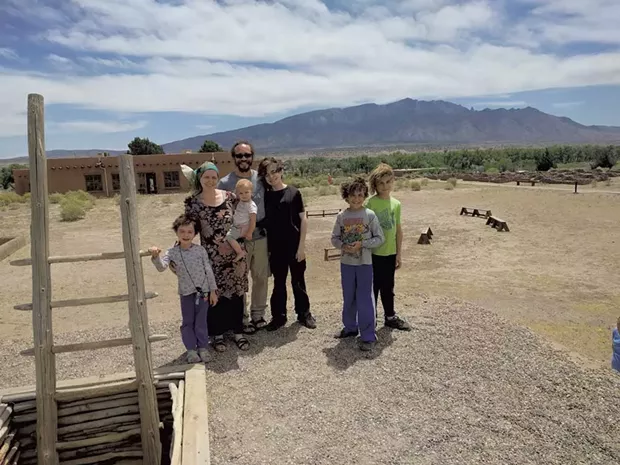 COURTESY OF GRACE AHMED
The Ahmeds at Coronado Historic Site in New Mexico
"The decision to buy it was sort of a carpe diem moment," Grace wrote in an email from Arches of Zion National Park in Utah. She and her husband had dreamed of taking an extended road trip. Then the bus went up for sale. "We thought about how quickly our kids are growing and if we didn't do this trip now, they wouldn't be kids for much longer while we waited for a better opportunity."
They rented their South End home to neighbors who are renovating their own house. Web developer Ishmael made plans to work remotely. Grace, a University of Vermont graduate student, took a leave of absence for the spring semester. She submitted a course of study with the Vermont Department of Education so she could homeschool the older kids. And on March 25, the family embarked on an almost-four-month cross-country trip going west across the southern half of the country and coming back across the north.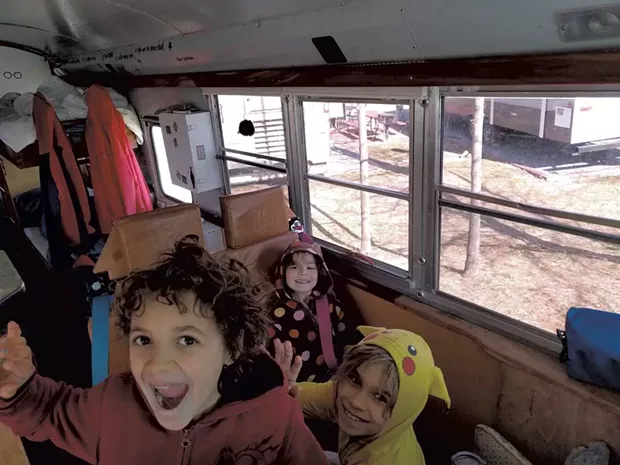 COURTESY OF GRACE AHMED
Enoch, Mitzi and Nahum
Though the family initially intended to take just the bus, they ended up bringing their minivan as well, which gives them flexibility and allows the kids to take breaks from each other when needed. Grace usually drives the van, while Ishmael pilots the 37-foot-long bus.
They all sleep under one roof in the 300-square-foot bus. The three older kids each have their own bunk bed, 7-year-old Mitzi sleeps on a bench that converts to a bed and baby Rivka snuggles with her parents in their king-size bed.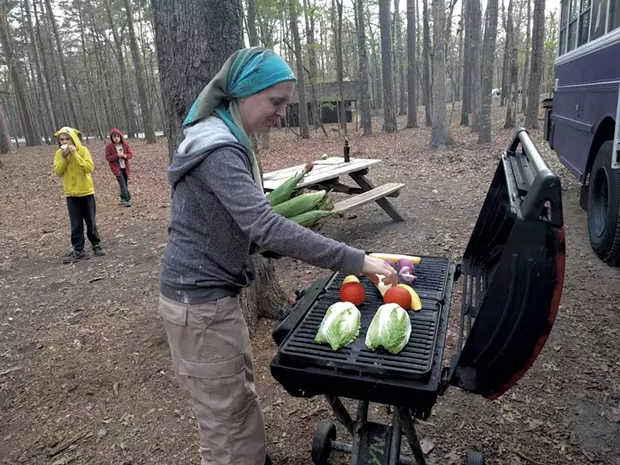 COURTESY OF GRACE AHMED
Grace grills veggies for dinner
Stops so far include Washington, D.C.; Charlotte, N.C.; Atlanta and Monahans Sandhills State Park in Texas. After working remotely for six weeks, spotty internet access and long hours prompted Ishmael to take a leave for the remainder of the trip. As for home schooling on the road, Grace said it's "kind of like being on one long field trip ... The biggest challenge is trying to establish any kind of school routine in a life that's anything but routine." Ezra has been making weekly videos to share with his middle-school classmates, and the kids have been reading fiction, doing math workbooks and listening to audio books during the drives.
The family is Jewish and keeps kosher, so another challenge, said Grace, has been finding kosher meat and fish they can prepare on their grill. Utah, for example, has limited kosher food, so the family planned to eat a vegetarian diet until they could restock their supply in California.
COURTESY OF GRACE AHMED
Nahum does schoolwork
Before the trip, Grace said she joked that it would be like "the tour of Laundromats of the USA." And though "mundane tasks like laundry, grocery shopping, cooking and eating" — plus bus repairs, like fixing a broken water valve — do take up time on the road, she said, "it's pretty amazing to wake up in a new spot and set out for the next adventure."