In George Patrick Leal's The Pumpkin of Magic Woods, the character Doggie says, "the first thing you need to know about this place is ... all kinds of weird and magical things happen here." That line is a good synopsis of second-grade teacher Leal's Magic Woods trilogy, which he self-published through the online platform CreateSpace and released in January.
Leal's invented world was inspired by his own childhood fascination with storytelling. His creative cast of characters includes a kitty, bunny and plastic pumpkin. And their snappy dialogue is often laugh-out-loud funny.
Burlington-based Leal, father of 18-month-old son Bowden, took a break from his teaching job at the Integrated Arts Academy at H.O. Wheeler to talk with Kids VT about his books.
Kids VT: How did the Magic Woods trilogy travel from your imagination to the page?
GEORGE PATRICK LEAL: I've told these stories for years, so when I started to write them down, the big thing for me was voice. A story is really about a relationship between the storyteller and the person who is listening. That's one reason why, when we teach children to write in classrooms now, we have them talk through the story first.
KVT: What's your favorite part of writing?
GPL: I love creating a setting and imagining a whole other world. Beneath the Magic Woods stories are a chronology and a whole puzzle that builds this fictive place. I make movies in the summer, too, and do all the writing and editing and directing. It's a fun way to get a bunch of people together and be creative.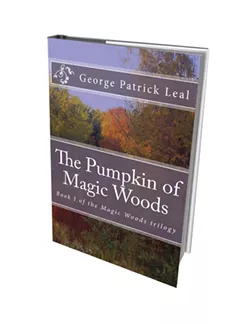 The Pumpkin of Magic Woods
KVT: Creativity seems to be a major force in your life. Would you elaborate on the importance of imagination?
GPL: I like storytelling. I stumbled on that early in my life and, as I became a teacher, I realized storytelling is often missing from kids' lives. A child naturally has empathy, but reading develops the sense in a child that something — like a terrible illness, say — could happen to them, too. Our adult and political sphere is incredibly lacking in this depth. We are so distracted all the time — and reward ourselves with distraction — that our attention spans are diminishing.
KVT: Parents know reading is essential for their kids, but could you expand on why?
GPL: Reading is very important to our world. In reading, we go deep. When we follow our curiosity about ourselves and others, we discover that other people, in ways we never imagined, are real, too. Reading engages and entertains us, but at the same time strengthens our ability to think and reflect in a thoughtful way. We need that ability to think critically when we act in the world.
KVT: Any advice for aspiring authors?
GPL: Write constantly. Read constantly. Engage with the craft in a joyful way.
The Magic Woods Trilogy includes The Pumpkin of Magic Woods, The Lost Crowns of Magic Woods and The Worlds Beyond Magic Woods. A book-release party — with a reading, book signing and Q&A — takes place on Sunday, June 4, from 5-7 p.m. at North End Studios in Burlington. Info, 863-6713 or northendstudios.org.