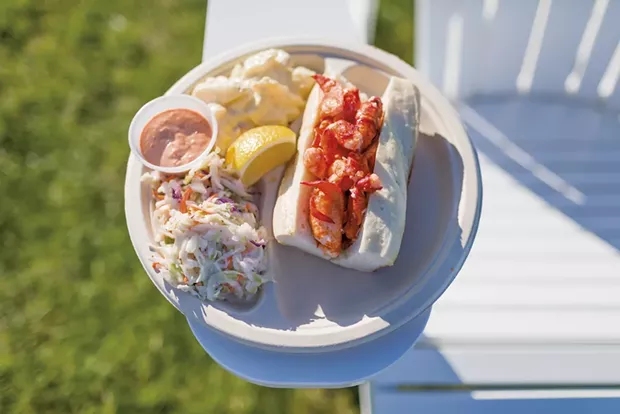 file: oliver parini
Steamship Pier Bar & Grill
No one's got time for long indoor meals in the summer months. Lucky for us, Vermont has a wide range of quick and casual options, from diners that keep the coffee flowing to snack bars with grub that's a cut above typical fast food. Some, like the 101-year-old Wayside Restaurant in Montpelier, come with a storied past. Others, like Steamship Pier Bar & Grill in North Hero, come with an unbeatable view. Check out these 10 warm-weather spots that will make both kids and adults happy
and
full.
1. Steamship Pier Bar & Grill
This first-come, first-served waterfront eatery — owned by the North Hero House Inn — gets rave reviews for its butter-poached lobster rolls. The restaurant, open June through September, also serves up Honduran pulled-pork sandwiches, fish tacos, burgers and salads, plus stunning views of Lake Champlain. "I highly recommend sitting in one of the big Adirondack chairs out on the grassy pier to drink in the lake and the mountains (and the craft beers)," wrote one Yelp reviewer.
2. Canteen Creemee Company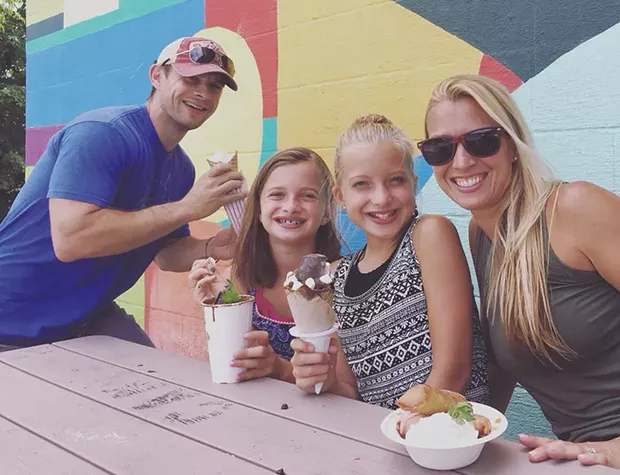 Courtesy
Canteen Creemee Company
Don't be fooled by its name. This foodie-friendly snack bar serves up savory in addition to sweet. Try a local beef burger, or go for crispy fried chicken stuffed in a baguette with cilantro and sriracha mayo to create a next-level banh mi. Whatever you choose, save room for the creemees. If you're feeling daring, go for the vertical sundae treatment; a rotating menu includes s'more, brownie and maple-themed creations balanced on a cone. An added bonus: The resto is totally nut-free.
3. Honeypie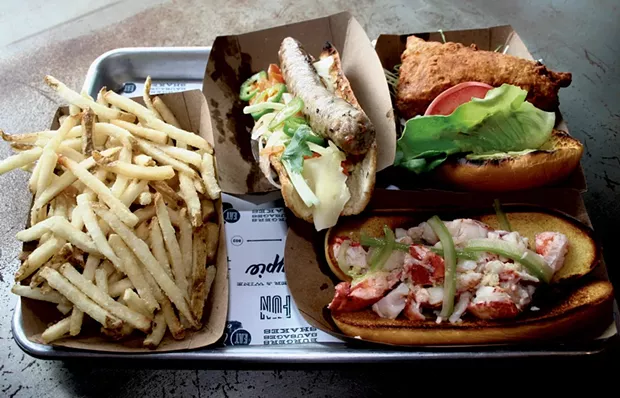 Courtesy Suzanne Podhaizer
Honeypie
This self-described "classic burger joint," located in an old gas station, serves up patties topped with mushrooms, fried eggs, kimchi and tzatziki on toasted potato rolls. Additional menu items include Vietnamese pork sausage with pickled carrots and jalapeños on a baguette; the Later Riser breakfast sandwich; fresh-cut fries; soft-serve ice cream; and milkshakes. Feeling fancy? Try Honeypie's upscale sister restaurant, SoLo Farm & Table in South Londonderry.
4. Wayside Restaurant, Bakery & Creamery
Courtesy Jesse Bliss
Wayside Restaurant, Bakery & Creamery
In 2018, this central Vermont institution celebrated its 100th birthday with an ice cream social attended by U.S. Rep. Peter Welch, Gov. Phil Scott and U.S. Sen. Patrick Leahy, who spoke about visiting the restaurant as a young child. Owned by three different families over the century, the no-frills establishment offers country-style breakfast, served all day, and hearty dinners like sirloin steak and fried whole-belly clams. Its bakery turns out Parker House rolls, muffins and doughnuts — plus cream, fruit and specialty pies.
5. Miss Lyndonville Diner
Courtesy
Miss Lyndonville french toast
Known for its reasonably priced skillet breakfasts, hot sandwiches and homemade desserts, this restaurant — which has served the Northeast Kingdom for more than 40 years — does a brisk business. If the seats are full when you arrive, "just wait a bit for a table," writes one TripAdvisor reviewer. "You'll be glad you did."
6. Joe's Snack Bar
Courtesy Sally Pollack
Joe's Snack Bar
This seasonal snack bar, founded in 1950 by Joe Rotunda, is featured in Vermont author Tracey Campbell Pearson's
Where Does Joe Go?,
a picture book that imagines where the snack bar proprietor might head when summer ends. Currently operated by Marilyn Kozlowski, the place has retained its welcoming, casual feel. Customers can order scallop baskets, onion rings, roast beef sandwiches and thick milkshakes from a window, then wait on benches for their orders to be called over the loudspeaker.
7. American Flatbread
file: jeb Wallace-Brodeur
American Flatbread
Parents of children with energy to burn, take heart: There's room to roam at the original outpost of this very Vermonty restaurant, known for gourmet wood-fired pizzas, its signature Evolution Salad and a wide variety of brews. On Lareau Farm, lawn games, outdoor toys and a fire pit entertain families who may find themselves waiting for a table. For those feeling adventurous, there's a swimming hole across the street.
8. The Worthy Burger
file: Tom McNeill
The Worthy Burger
Located in a renovated freight house, this casual eatery offers burgers of the beef, turkey, tuna and black bean varieties. The build-your-own option allows you to pick from unconventional toppings like habañero-pickled pineapple, bacon jam and Singapore honey sauce. Hand-cut fries, wings and doughnuts round out the menu. A spin-off, Worthy Burger Too, recently opened in Waitsfield.
9. Lost Nation Brewing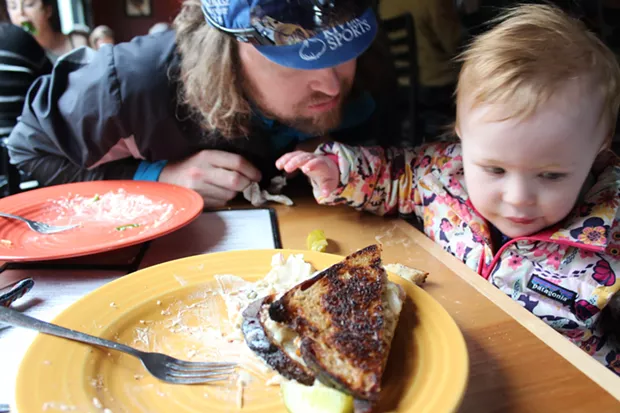 Courtesy Sarah Galbraith
Elise helps eat a tempeh Reuben sandwich at Lost Nation Brewing
Belly up to a picnic table and enjoy pub fare from the brewery's outdoor kitchen: burgers, hot dogs, sandwiches, mussels, salads and more. In addition to a plethora of craft brews, Lost Nation offers tasty nonalcoholic bevvies including Rookie's Root Beer, ginger beer and kombucha. Located just off the Lamoille Valley Rail Trail, it's the perfect place for a bike-riding pit stop.
10. Taco Gordo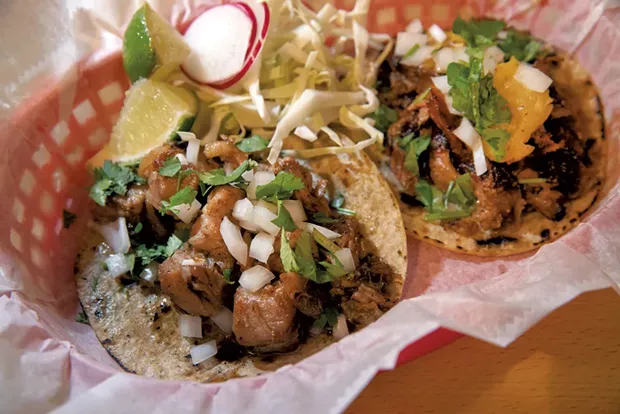 file: james buck
Taco Gordo
Formerly a food cart on the Church Street Marketplace, this taqueria opened in December 2018 in Burlington's Old North End. Its primary offering is $2 to $5 tacos, served in warm corn tortillas from All Souls Tortilleria and garnished with onion and cilantro. Grown-ups can choose from a selection of tequila and mezcal cocktails, while the kids can wet their whistles with housemade fermented pineapple soda or horchata, a creamy blend of rice, milk, vanilla and cinnamon.
11. ArtsRiot Truck Stop
Courtesy
ArtsRiot Truck Stop
On Friday nights mid-May through September, this restaurant and music-and-events venue hosts a bevy of food trucks with eclectic offerings like pierogi, tempura broccoli, barbecue and doughnuts.
12. Beansie's Bus
Courtesy Don Eggert
Beansie's Bus
In the warmer months, Beansie's — a retrofitted school bus that's been cooking up hand-cut fries and Michigan dogs since 1944 — sets up shop in the northwest corner of Burlington's Battery Park.