Daria Bishop
Waterfront Park
There's so much to do in Burlington that families could easily fill a day or two without leaving the city limits. Distinctive local shops, restaurants and galleries dot its downtown — especially along the pedestrian-friendly Church Street Marketplace. Vermont's largest city is also home to numerous parks and a paved bike path that winds along the shore of Lake Champlain. The Adirondacks rise in the distance on the other side of the lake. When the sun sets behind them at the end of the day, it'll take your breath away.
Pro tip:
Parking is free for the first two hours at all city-owned garages.
Attractions
1. Waterfront Park
Located west of downtown along the Lake Champlain shoreline, Waterfront Park is the perfect place for a creemee — available at Burlington Bay Market & Café, or at a stand by the railroad tracks — and a stroll along the boardwalk. Tired? Sit in one of the wooden swings and enjoy the view.
2. ECHO Leahy Center for Lake Champlain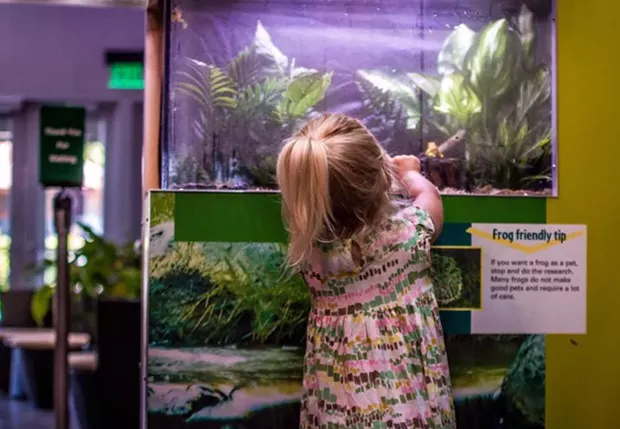 ECHO Leahy Center for Lake Champlain
This year-round lake aquarium offers an up close look at native Vermont fish, turtles and eels, as well as a touch pool — and, until September 4, 2017, a live butterfly exhibit. An on-site cafe serves snacks or lunch. $$
3. Andy A-Dog Williams Skatepark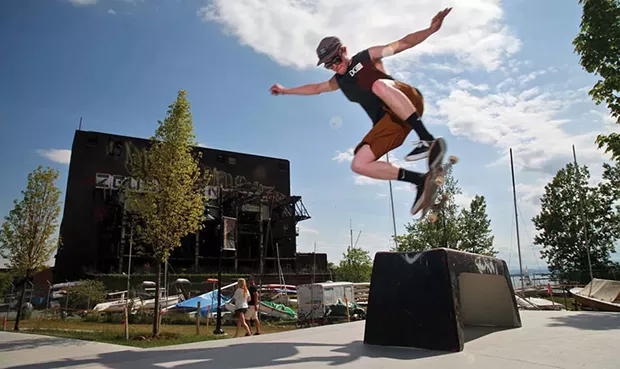 Matthew Thorsen
Andy A-Dog Williams Skatepark
Skate legend Tony Hawk attended the 2016 grand opening and dedication of this world-class concrete facility named for the late DJ/Turntablist Andy "A-Dog" Williams. Older kids can navigate ramps, rails, boxes, a half-bowl and half-pipe. The younger set, and parents, might be better off just watching.
4. Tallest Stack of File Cabinets
Tallest Stack of File Cabinets
Titled "File Under So. Co., Waiting for...," this sculpture is a whimsical monument to bureaucracy. It references the controversial and still incomplete Southern Connector roadway, which would direct traffic from I-89 to downtown Burlington, relieving congestion on Shelburne Road. The stack's 38 filing drawers represent every year from the road's 1965 conception to the cabinet's 2002 construction. (Its creator, architect Bren Alvarez, could add another 15 drawers for the years since.) Flynn Ave. (on right, heading west, before railroad tracks)
5. Church Street Marketplace
Steve Mease
Church Street Marketplace
The brick-lined thoroughfare is closed to vehicle traffic from Pearl Street to Main, making it ideal for shopping, people watching or dining at one of the many restaurants that offers outdoor seating. Kids can clamber on the boulders or study the sculptures scattered along the route. Don't miss Frog Hollow Vermont Craft Gallery, which sells traditional and contemporary work by area artisans.
6. Spirit of Ethan Allen cruises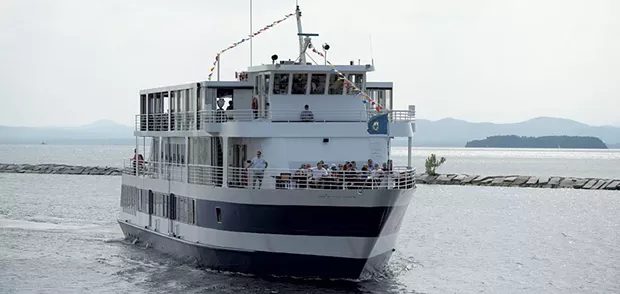 Daria Bishop
Spirit of Ethan Allen
The standard, 90-minute narrated cruise — filled with fun facts about the lake, its history and its inhabitants — is worth the price of admission, especially for those who've never ventured out on Lake Champlain. Refreshments — and bathrooms — are available on board. $$$
Food & Drink
7. Burlington Farmers Market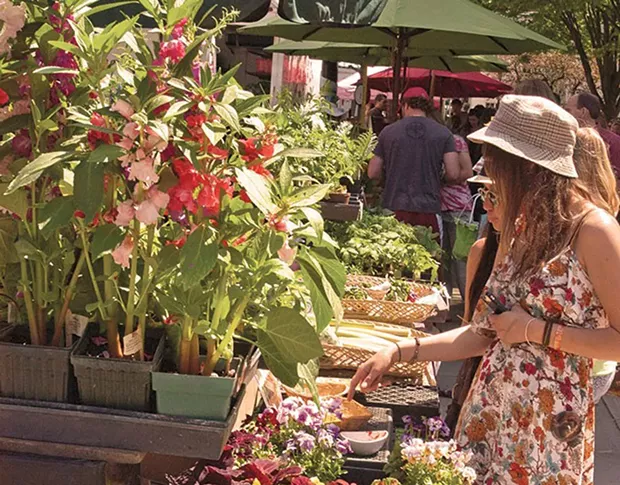 Matthew Thorsen
Burlington Farmers Market
Every Saturday from 10 a.m. – 2 p.m., mid-May until mid-October, City Hall Park hosts vendors selling local produce, handmade crafts, meats and cheeses. They serve breakfast, lunch and sweet treats, too.
8. The Doughnut Dilemma

Find a variety of cake and yeast doughnuts in flavors like blueberry and toasted coconut, all made from scratch from mostly local ingredients.
9. August First Bakery

This neighborhood café offers breakfast, lunch, pastries and lattes. Don't miss the jalapeño cheddar rolls. Kids are welcome and there's usually a stash of toys to keep little ones occupied — but leave your laptops and tablets at home.
10. Sherpa Kitchen
Enjoy authentic Nepalese and Himalayan Sherpa cuisine, with kid-friendly options like dumplings and noodles, in a relaxed atmosphere.
Parks, Biking and Beaches
11. Burlington Bike Path
This 8-mile-long paved path runs from Oakledge Park on the city's South End all the way to the mouth of the Winooski River, where bikers can pick up the Island Line Trail. Didn't bring bikes? Rent two-wheelers — or a tandem bike, tagalong or trailer — from Local Motion. The nonprofit operates a trailside center at 1 Steele Street, near ECHO.
12. Oakledge Park

A universally accessible circular tree house distinguishes this South End city park, which also has a playground, beach, tennis and bocce courts, and a picnic shelter. Visitors can also access the nearby Earth Clock at Blanchard Beach. Its 14 imposing granite slabs stand in a 43-and-a-half-foot circle, right off the bike path. Constructed in 2007 by grassroots nonprofit Circles for Peace, it functions as a clock, compass, calendar and sundial, and attracts the occasional solstice ceremony and sacred circle dance. $
13. North Beach

Daria Bishop
North Beach
This is Burlington's largest beach, and the only one with lifeguards in summer. The shallow water extends far beyond shore, making it harder for young swimmers to get in over their heads. A concession stand sells creemees and snacks. There's a picnic shelter and playground on site, as well as canoe, kayak and paddleboard rentals. Pro tip: Avoid the entry fee by riding there on the bike path. $
14. Whale Tails at Technology Park Walking Trail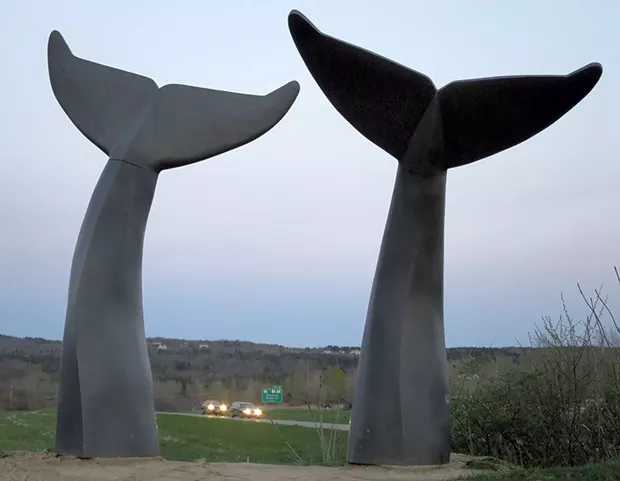 Matthew Thorsen
"Reverence" by Jim Sardonis
A flat path leads walkers to "Reverence" — aka the Whale Tails — visible from I-89. When sculptor Jim Sardonis created it in 1989, he never could have guessed that it would become the perfect family selfie spot.