James Buck
The Burlington skyline from Lake Champlain
There's nothing quite like the Queen City in the summer. The lake glistens, the pedestrian marketplace bustles and the bike path teems with runners and cyclists. Whether you're in the mood for shopping, strolling and dining or biking, boating and swimming, Vermont's largest city has you covered.
Attractions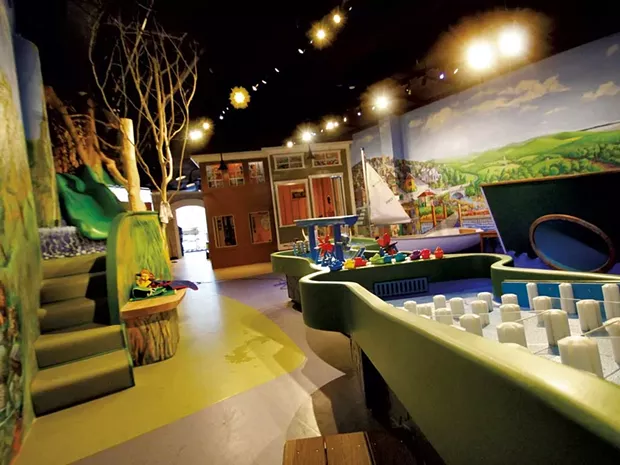 Courtesy Image
Champ Lane at ECHO Leahy Center for Lake Champlain
ECHO Leahy Center for Lake Champlain
This lake aquarium showcases more than just fish and turtles. Traveling exhibits rotate several times a year. This summer, look for "How People Make Things," which shows how familiar childhood objects are manufactured and was inspired by the Mister Rogers' factory tours. Champ Lane, a play space for ages 6 and under, features a deluxe water table, multilevel boat, play café, and rustic tree house with a slide conceptualized by Phish set designer Russ Bennett. For older kids, the Northfield Savings Bank 3D Theater presents a changing lineup of nature- and science-themed movies. Admission, $11.50-14.50; free for children under 3.
Courtesy Image
The BCA Center on Church St.
BCA Center
This free art gallery next to Burlington City Hall on the Church Street Marketplace features often-edgy exhibits by artists from Vermont and beyond. It's the perfect stop after lunch at the Saturday Burlington Farmers Market in City Hall Park.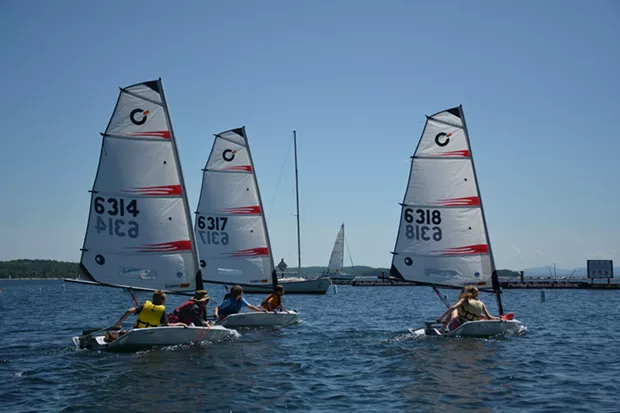 Shayne Lynn
Community Sailing Center
Community Sailing Center
Rent paddleboards, kayaks, canoes and sailboats at this water-sports hub, which also offers summer camps. Nautical novices can take private family sailing lessons with 48 hours' notice.
Matthew Thorsen
Centennial Field in Burlington
Centennial Field
Home to the Vermont Lake Monsters minor league team, the historic ballpark hosted its first game in 1906. The 2018 summer season includes 38 home games — with themes like Harry Potter Night and Hot Dog Heaven, during which fans can feast on 25-cent franks. The Kids Fun Zone, located behind the team's clubhouse, offers a speed-pitch station, bounce castle and obstacle-course inflatables. Don't miss a photo op with mascot Champ or a chance to run the bases following every game on Mondays, Tuesdays and Wednesdays. Kids 12 and under can sign up for CHAMP's Kids Club, which entitles them to free admission to five select home games every summer. Tickets, $5-15; $5 for Fun Zone admission.
Food & Drink
Bluebird Barbecue
This laid-back Southern-inspired joint serves up slow-cooked meats and kid-friendly dishes like mac and cheese and chicken wings. Try the Family Reunion, a smorgasbord on a large metal tray that gives hungry diners a sampling of the restaurant's offerings, from brisket to pit beans.
Oliver Parini
The Spot on the Dock on the Burlington Waterfront
The Spot on the Dock
The surf-themed waterfront restaurant — a spin-off of the Spot in Burlington's South End (210 Shelburne Rd.) — offers outdoor seating and tasty dishes, from dinner salads to fish tacos. An enclosed play structure at the front means kids can climb and slide while you sip your mango margarita and watch the sun go down.
Courtesy Image
SoYo Frozen Yogurt
New Word Tortilla and SoYo Frozen Yogurt
Looking for a casual dinner-and-dessert combo? In an industrial space in Burlington's artsy South End, New World serves up large and reasonably priced burritos and wraps on your choice of white, wheat, tomato, curry or spinach tortillas, made fresh daily. Next door, SoYo makes tangy, small-batch froyo from local dairy products and offers an array of toppings, from fresh fruit to chocolate chips.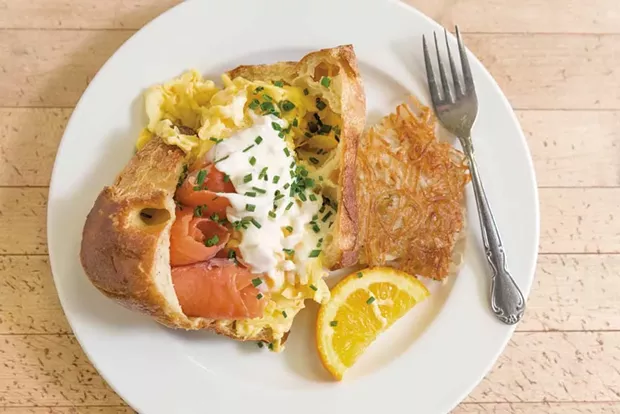 Brunch pastry at Mirabelles
Mirabelles Café & Bakery
The nearly 30-year-old Burlington institution makes its elegant pastries, decadent cakes and multitude of cookies from scratch. Don't have a sweet tooth? Breakfast and lunch options — from popovers filled with scrambled eggs and smoked salmon to the Cuban-style panini accompanied by a cup of soup — are just as mouthwatering.
Parks, Biking & Beaches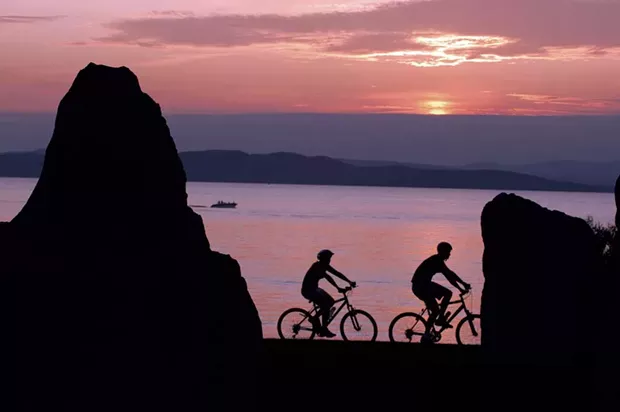 Cyclists on the Burlington Greenway at night
Burlington Greenway (Bike Path)
Eight miles of paved path runs from just south of Oakledge Park to the Winooski River. Between miles 2 and 3, Ice Cream Bob's creemee stand, ECHO and Andy A_Dog Williams Skatepark offer perfect stopping points.

Extend your ride by connecting to the Island Line Trail, which takes riders three miles into the middle of Lake Champlain on the Colchester Causeway. Hop on Local Motion's bike ferry to traverse a 200-foot gap in the causeway, then continue into the Champlain Islands. Note: The causeway was damaged in a May 2018 storm. Visit colchestervt.gov for the latest information on its status.

Don't have your own bikes? Rent 'em at Local Motion (1 Steele St.) or Skirack (85 Main St.).

Battery Park
This 14-acre park boasts a large playground and panoramic views of Lake Champlain. Historical monuments include a decorative cannon that commemorates the park's history as a military camp during the War of 1812 and a wood sculpture of Chief Grey Lock, the Abenaki tribe's greatest warrior. In the warmer months, Beansie's — a retrofitted school bus that's been serving up hand-cut fries and Michigan dogs since 1944 — sets up shop in the park's northwest corner.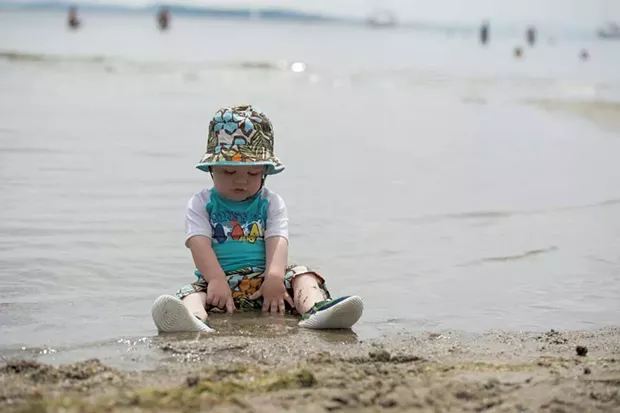 Daria Bishop
North Beach
North Beach
Families can while away the hours at Burlington's largest beach, which offers swimming, food concessions, a playground, and kayak, canoe and paddleboard rentals. Picnic tables, grills and a paved pavilion make it an ideal spot to meet up with other families for an al fresco meal.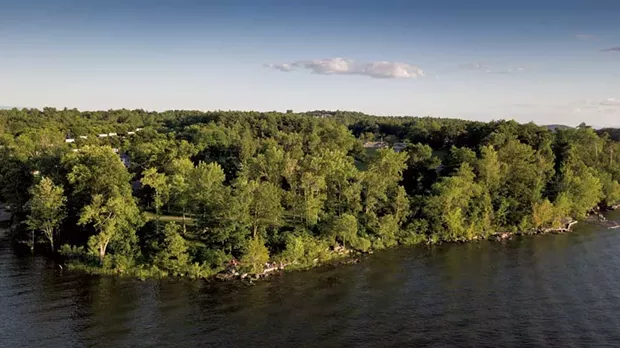 James Buck
Red Rocks Park from Lake Champlain
Red Rocks Park
Just over the Burlington-South Burlington border, this 100-acre municipal park offers trails lined with maple, ash, hickory and oak trees for hiking, running and dog walking. At the southeastern edge of the park — which gets its name from the iron-rich quartzite rock that underlies it — there's a sandy beach with 200 yards of waterfront access.