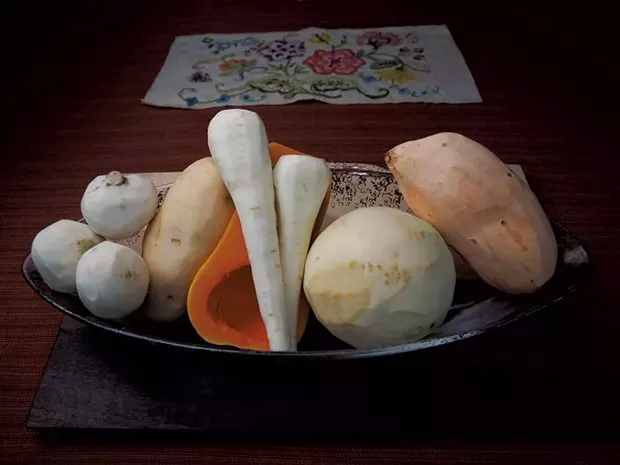 Andy Brumbaugh
Fall veggies
Thanksgiving has always been a favorite holiday in our family. We grew up with all the traditional staples: turkey and gravy, cranberry sauce, fresh warm rolls, mashed potatoes and pies, pies, pies. But sometimes — when the garden was particularly bountiful — my father would get more creative, and we would be treated to a wonderful variation of mashed potatoes that incorporated all kinds of fall veggies. Those years were my favorites.
My parents always had a very impressive garden. They grew tomatoes; green beans; summer squash; winter squash; and root vegetables, including sweet potatoes, turnips, parsnips and rutabagas.
Andy Brumbaugh
Vegetable mash makes a great side dish
When making his mashed vegetables for Thanksgiving, Dad would often just gather whatever was left from the harvest and create something that varied from year to year. Some things remained constant though. The backbone of the mash was always the humble potato. Dad's special touch was adding evaporated milk and a dab of sour cream instead of plain cream. The slight tang from the sour cream really plays off the earthy flavor of the vegetables.
We like to leave a few small chunks in the mash instead of trying to get it perfectly smooth. Add fresh sage and plenty of salt and freshly ground pepper to finish off the dish. So go ahead. Experiment with your mash. You'll be thankful you did.
Autumnal Vegetable Mash
Andy Brumbaugh
Autumnal Vegetable Mash
(Serves 4-6)
Ingredients
2 large russet potatoes
1 small rutabaga
¼ small butternut squash
1 small sweet potato
2 turnips
1 parsnip
¼ cup butter
¼ cup evaporated milk
3 tablespoons sour cream (regular or low-fat)
1 tablespoon finely chopped fresh sage
Salt and pepper to taste
Directions:
Peel vegetables and cut into 1-inch cubes.
Boil in a large pot of salted water until soft, about 30-35 minutes.
Carefully drain, and transfer the vegetables back to the pot.
Add the butter and stir to melt.
Stir in the evaporated milk and sour cream.
Using a potato masher, mash until most of the chunks are gone.
Add the sage, stir well, then season with salt and pepper to taste.