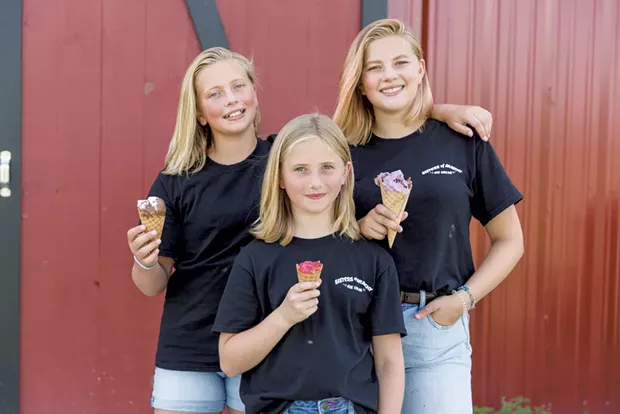 courtesy of Danielle Allendorf photography
Becky's daughters, AKA the Sisters of Anarchy
In 2013, my husband, Bob, and I became Beverly Hillbillies in reverse. We left Los Angeles and moved east to start a berry farm and ice cream business in Vermont. We undertook this bold entrepreneurial venture for a number of reasons. We've always loved berries and ice cream. Early in our relationship, we made a pact that we could only eat ice cream if we hand-cranked it ourselves. In our 30 years together, Bob and I have learned quite a bit about making great, fresh ice cream, even before we started making it commercially.
Another key reason for starting our business was the educational benefit for our three daughters. We've always lovingly referred to our girls, now 11, 13 and 15, as the Sisters of Anarchy because of their spirited personalities and resulting chaos in our lives. Bob, in particular, believes there is no learning like doing. He wants our kids to learn that the vast majority of successful people have taken big risks and worked their butts off, and that most everything has value under the right circumstances, even cow poop. And, while I already manage a successful consulting business, I can't think of a better way for my daughters to have confidence going into the world than seeing their own mother start and nurture a business that they can see and taste. Our name, Sisters of Anarchy Ice Cream, screams female empowerment!
Bob and I both grew up in entrepreneurial households. His family ran several retail and wholesale businesses in central New York; my family built and managed a portfolio of rental properties in Connecticut.
One of Bob's earliest memories, around age 4, is working on a Saturday with his parents and older siblings to unload an unexpected truckload of oil containers. He helped his parents collect and roll quarters from car washes. He painted fuel tanks on hot, humid summer days and trailed after his grandfather and great uncles on the family farm. He learned that all work had value, and that doing it well was not only good for the bottom line, it instilled pride and a sense of accomplishment.
I worked with my family pruning apple trees and doing yard work. I eventually parlayed that into a high school gardening business, which my best friend and I ran for three years. I helped my father sort checks from his rental properties. I learned about interest, mortgages and risk. Did these topics interest the 11-year-old me? Rarely. But these conversations held me in good stead as I entered adulthood and had to make my own business and financial decisions.
Our daughters are receiving similar real-life lessons and experiences. They were 5, 7 and 9 when we started the farm and have participated in building it and our ice cream business from, literally, the ground up. They have performed nearly every job — planting starts, picking berries, weeding, hooking up trailers and starting generators, washing piles of dishes higher than they are, and selling ice cream. We have some amazing "before" and "after" photos of them weeding a row of blueberries in 2013, when the blueberries were new, and again in 2018. The girls and plants are growing in parallel.
One of the things that we value most about our daughters' participation in the family business is what they are learning about presenting themselves to the world and navigating the sea of humanity. All three of them sell ice cream at food truck and music events in the summer. While the vast majority of our customers are lovely, there are the occasional grouches. The girls are learning the importance of putting the customer first, even if the person is not easy to deal with. Interactions with customers engender many intellectual discussions of (and arguments about!) concepts like "doing well by doing good" capitalism — in our case, being polite and treating all people with patience and respect while feeding them well.
My 11-year-old especially loves hanging out with our college-aged employees, most of whom are confident young women, and learning about what they are studying. A number of recent immigrants have worked with us, too. My oldest daughter and her friends who work at the farm love it when these New Americans bring food to share during lunch and are amazed to learn that they work full-time jobs and a side job at our farm.
Our daughters also have the opportunity to learn "hard" skills. My youngest could make change for a $100 bill at age 9. They have saved money from their wages, and we expect them to pay for their own incidentals during trips to the mall or movies. Our daughters helped write and provide vocals for our Sisters of Anarchy Ice Cream theme song, "We Are the Sisters," and have recorded radio commercials for the business. They have strong opinions about social media and marketing, and on how to showcase strong-willed women making change. For example, they were one of the driving forces in featuring "Women of Anarchy"— women who have made history by breaking convention — on our website.
Our daughters sometimes don't understand our unconventional and unending work hours, lack of office outside of the house, and why we are the only parents they know who sling ice cream for a living. They witness our physical and mental exhaustion after a 16-hour workday, the norm from April through October; the stress about cash flow and payroll; and disagreements about strategy or approach. Bob and I think this will help them appreciate future employers and the sacrifices that they make; reach their own hard-won goals in academics, athletics and career; and understand the ebbs and flows of a committed relationship.
A family business is not always fun. Our daughters vacillate between pride in what they have helped build and resentment about how much time the business takes. But the three begrudgingly have acknowledged that they know they will value the experience of having worked in our family business as they get older.
The many responsibilities attached to a job provide young people with so many lessons and skills, plus the freedom and responsibility attached to earning and managing their own money. I feel fortunate that my children are getting their first work experience with my husband and me in a family business that they have helped inspire.