©Lei Xu | Dreamstime.com
The Hildene, Lincoln Family Home
Vermont is rich in history. From the sprawling summer home of Abraham Lincoln's son to a stunning library/art gallery hybrid with a storied past, there are plenty of places to get a glimpse into the bygone years. Whether you visit a mansion, museum or monument, you'll likely be greeted by knowledgeable volunteers, happy to share their expertise.
1. Hildene: The Lincoln Family Home
The only child of President Abraham Lincoln and his wife, Mary Todd Lincoln, to survive childhood, Robert Lincoln earned his own fame as chair of the Pullman Company, the largest manufacturing corporation at the turn of the 20th century. Located on a pastoral dirt road, this 412-acre summer estate is home to a Georgian revival mansion and 14 historic buildings, including a cheesemaking facility, a restored Pullman car, a 600-foot floating wetland boardwalk, gardens and 12 miles of trails. $6-23; free for children 5 and under.
2. Old Stone House Museum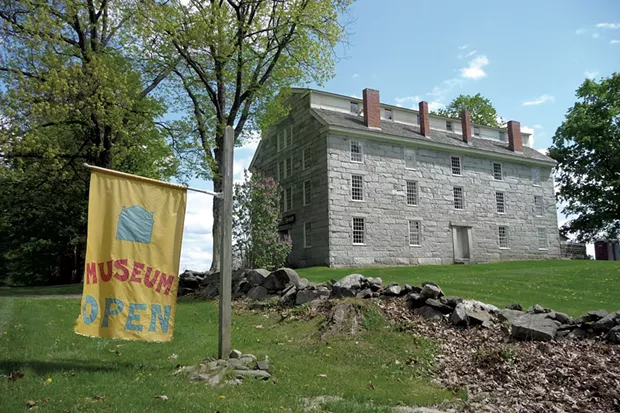 Courtesy
Old Stone House Museum
An imposing four-story granite building dominates the museum's grounds and outbuildings. Built in 1836 as a school dormitory by Rev. Alexander Lucius Twilight — the country's first African American college graduate — the dorm's 30 rooms are packed with exhibits and a sizable collection of furniture, tools, textiles and folk art. Take an easy climb to an observatory at the top of Prospect Hill for enchanting views of the rural landscape. $5-10; free for children 4 and under.
3. Vermont Statehouse
file: jeb wallace brodeur
Vermont Statehouse
Perched on the columned building's recently restored gold dome, Ceres — the Roman goddess of agriculture — keeps watch over the nation's smallest capital city. Calais sculptor Chris Miller hand-carved this 14-and-a-half-foot goddess in 2018 from Honduran mahogany using a model created by Montpelier artist Jerry Williams. Inside the Greek Revival Statehouse, visitors can take free guided tours or peruse portraits of former governors and a large art collection at their own pace. The House and Senate chambers are the country's oldest active legislature halls with their original, ornate interiors. Free.
4. American Precision Museum
Courtesy of the Precision Museum
A milling machine at the Precision Museum
Did you know Vermont's Windsor Valley was the Silicon Valley of the mid-19th century? The development of interchangeable machine parts — much of it pioneered at the Robbins & Lawrence Armory now occupied by the American Precision Museum — transformed manufacturing from made-by-hand to factory-produced. While Robbins & Lawrence mostly produced firearms just before the Civil War, these factory methods were later put to use to manufacture sewing machines, bicycles and more — laying the foundation for the country's 21st-century consumer society. The museum also houses the country's largest collection of machine tools. $5-8; free for children 5 and under.
5. St. Johnsbury Athenaeum
Courtesy of St. Johnsbury Athenaeum
"Domes of Yosemite"
In 1871, Horace Fairbanks — a former governor of Vermont and a partner in the scale manufacturing business E. and T. Fairbanks Company — gifted this combined library and art gallery to the town. The elaborate French Second Empire-style building has a four-sided mansard roof and an interior that fills with natural light via the arched windows, showcasing detailed woodwork and hardwood ash and walnut floors. The rear gallery features an impressive collection, dominated by the immense oil painting "The Domes of Yosemite" by Albert Bierstadt. The Fairbanks Museum & Planetarium is just a short walk down the street. Free.
6. Shelburne Museum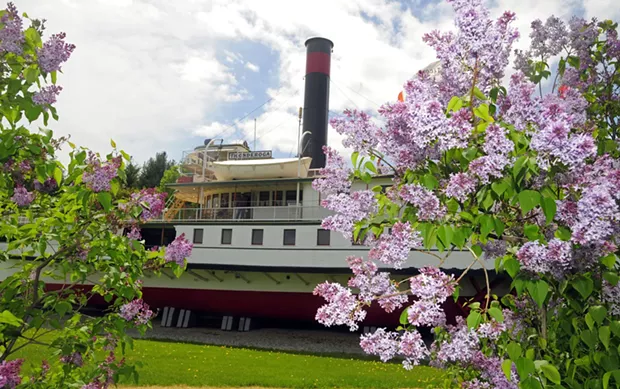 How many museums contain a carousel, a steamboat and a fine art collection? Devoted to the exploration of history, art and design, Shelburne Museum boasts 39 buildings on its 45 acres — with plenty of outdoor space for children to run and the Owl Cottage, a deluxe kids' play room. Electra Havemeyer Webb, who founded the museum in 1947, envisioned a "collection of collections" to celebrate beauty in the arts and everyday objects like weather vanes, toys, quilts and circus figurines. The compound includes carriages, barns, a train, a general store, and even a lighthouse and jail. Behind the one-room schoolhouse, Alyssia's Garden offers a swing set and slide for little ones — and a bench for parents, too. $8-25; free for children 4 and under.
7. 'The Old Red Mill'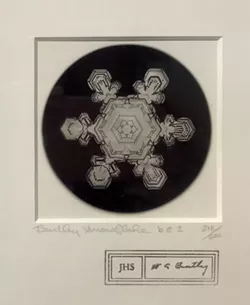 Courtesy
Photograph of a snowflake by Snowflake Bentley
Once used as a grist mill, this stone and wood structure now houses the Jericho Historical Society and an exhibit showcasing the photographs, camera and microscope of "Snowflake" Bentley. A self-educated farmer, Wilson A. Bentley (1865-1931) pioneered photomicrography, adapting a microscope to a camera. In 1885, he successfully developed the first photograph of a snowflake. His book,
Snow Crystals
, contains more than 2,400 black-and-white images of Vermont's miniature wonders. Check out Jacqueline Briggs Martin's children's book
Snowflake Bentley
, illustrated by Plainfield resident Mary Azarian, for more on this notable Vermonter. Free.
8. Vermont Granite Museum
Courtesy
Vermont Granite Museum
In 1994, a group of more than 300 central Vermonters came together to preserve the local granite industry's lore. Their work transforming the historic Jones Brothers Manufacturing plant into a museum continues, but the doors are open for public viewing of exhibits and special events. $3-5.
9. Brattleboro Museum & Art Center

Courtesy
Brattleboro Museum & Art Center
Founded in 1972, the museum occupies the former Union Station in downtown Brattleboro, beside the Connecticut River. Devoted to education and performance art in addition to visual art, the museum hosts a revolving series of exhibits. This summer, check out Timothy Segar's steel sculptures displayed outside the museum and Barbara Takenaga's immersive floor-to-ceiling paintings inspired by the night sky. Just south of Brattleboro, Guilford's Fort Dummer State Park (517 Old Guilford Rd., Guilford) marks the site of the first permanent European settlement in Vermont. $4-8; free for ages 18 and under.