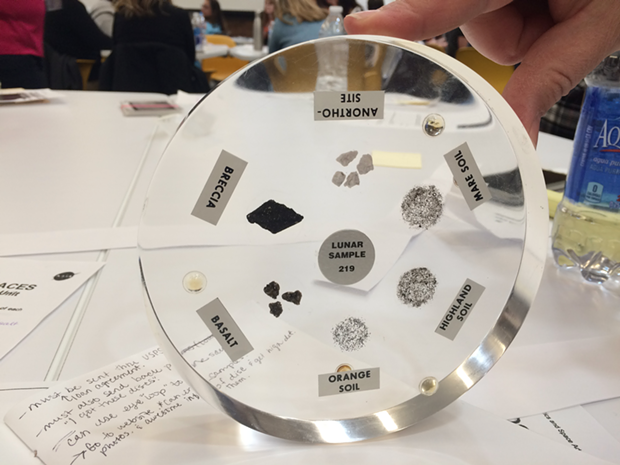 Courtesy of Abby Wanserski
One of the NASA discs
On Sunday, June 2, the
Fletcher Free Library
will open its doors to families with music, space-themed snacks, rocketry activities and rare moon rocks on loan from NASA. The
"launch" party
celebrates the library's Summer Challenge, titled "A Universe of Stories."
The Fletcher Free summer program falls under the umbrella of the Collaborative Summer Library Program, which shares programming and resources around the country. A grant from NASA@My Library — a project run by NASA to increase STEM learning opportunities — supports this year's far-out theme. NASA will provide moon samples for the weekend event, as well as a full-size Orion telescope, and backpacks that the library can lend out, complete with mini telescopes, books and computer mouses that can be used for coding.
Teen librarian Abby Wanserski went
Fletcher Free teen librarian Abby Wanserski
through a day-long training in Denver, CO to learn how to handle the samples. "During the training, they point out how these were all collected by astronauts and they're so invaluable because people risked their lives to get them," she said. "And you're like,
Oh, right! That's really crazy.
"
The library will only have the samples from 2 to 4 p.m., before they will return to the protection of the Burlington Police Department. While they're at the library, Wanserski will run a station where people can look at the samples in plastic disks, see video footage and participate in activities.
The library has run 40 years of summer reading programs, but more recently, has broadened its scope to keep patrons engaged in diverse ways. Over the summer, younger kids can fill out bingo-like sheets with activities, like reading a certain amount, or attending a library event. When they turn in the sheet, they are entered into raffles, with prizes from community organizations. Last year, more than 1,000 participants were entered into giveaways, which included movie tickets from Merrill's Roxy Cinema, coupons and a Kindle Fire.
The challenge is meant for Fletcher Free card holders — people who live, work or go to school in Burlington. But everyone, regardless of their residence, is invited to the free library programs.
The challenge "gets more casual as ages go up," said Wanserski, "because people get busier." The teen version of the challenge includes writing prompts that can be completed for entry into a raffle.
The definition of reading is looser, too. Comics and magazines can be included in participants' reading logs. Wanserski said this type of reading material can be a gateway to more advanced books. As a child, she said, "I liked reading graphic novels, and then I started reading the books that the graphic novels were based on."
The June 2 blast-off is one of many events that the Fletcher Free Library will be hosting over the summer. A live screening of Apollo 11 will celebrate the 50th anniversary of the moon landing on July 15. There will be a stargazing party with snacks in Lakeview Cemetery on Saturday, July 20.
It's really important to keep your brain engaged and stimulated throughout the summer, said Wanserski, "and it's really important to do it in a fun way."
For more information about summer reading programs at Vermont libraries, visit the Vermont Department of Libraries.