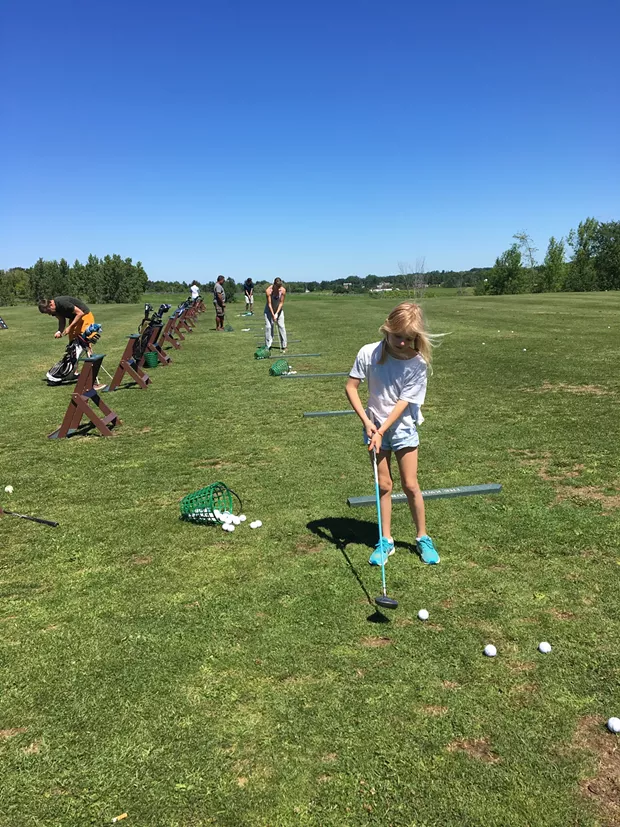 Courtesy of Sarah Tuff Dunn
Dillon gets ready to swing
Since 2008, my family and I have lived within a golf ball's lob from the
Kwiniaska
golf club in Shelburne — but have always whiffed at actually playing there. It's partially the plethora of other outdoor activities at our disposal, partially a lack of patience in our genes for chasing a little white sphere around nine holes, and partially prudence: do we really need to spend all our money on this sport?
Well, it turns out, we don't. At the Kwini Club, next door to the rambling course, the practice facilities are free. I discovered this after driving by for the umpteenth time and reminiscing about how much I really did like whacking the heck out of the ball when playing with my dad and brothers in Atlanta in my 20s — and then finding a couple of used 7-woods at Play It Again Sports in South Burlington.
On a sunny Sunday in late July, I coaxed my husband, Carlton, and 10-year-old-daughter, Dillon, to join me in an outing to the Kwini Club. "Love in an Elevator" by Aerosmith played from the Caddyshack clubhouse as we claimed our spots on the driving range. The only charge here is for a bucket of balls — $5 for a small, $7 for a medium and $10 for a large. We splurged on the large, scavenged for tees, and eyed the brightly colored flags marking various yardages on the range.
Gripping my club, I focused on the dimpled ball teed up at my feet.
Swish, thwack, soar!
I lost sight of it until it finally plunked down near the 200-yard marker. Triumph. Not so for Dillon, who was wildly swinging her club like Goofy being chased by a pack of bumblebees.
"What do you think about when you're swinging?" I asked Dillon.
"The ball," she said.
"What about the ball?" I asked.
"If I'm going to hit it," she said matter-of-factly, and then whiffed again. I coaxed her to keep her eyes on the ball, not on the club, not on Carlton and not on the flags fluttering in the breeze. And then I went back to my own practice balls, knowing that it would put too much pressure on her if I watched.
The approach worked. Soon, Dillon was making contact with the ball, and all three of us were obsessively swinging, pausing and peering at the soaring white spheres. (That is, when we weren't hitting worm burners.) Before we knew it, our large bucket of balls had dwindled down to nothing, and it was time to return home for lunch. But we tucked our tees into our pockets, vowing to come back later. It was fun. It was cheap. And it was a great addition to the plethora of outdoor activities in Vermont.
Find more information about the Kwini Club here.