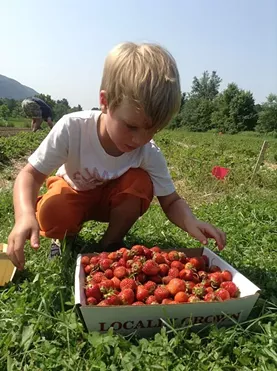 Picking berries at Last Resort Farm
Blink and you'll miss Vermont's short-but-sweet strawberry season. To get you and the little ones into the fields, we've complied a list of pick-your-own farms particularly suited for families. When heading out for your berry expedition, here are a few pointers to bear in mind:
Always call or visit the farm's website ahead of time to check time. Often, farms close for a few days if ripe berries are picked out, or for weather reasons. Most list relevant info on their answering machines or online.
While many places offer boxes for

collecting berries

, bringing your own baskets or buckets is a smart idea.

Cedar Circle Farm & Education Center
encourages families to take their time and enjoy the sandbox, kid-friendly chickens and a self-guided farm tour. Enjoy lunch at the café or bring your own picnic fixings. 225 Pavillion Road, East Thetford. Info, 785-4737
River Berry Farm
has offered organic vegetables and small fruit (including strawberries) for 23 years. 191 Goose Pond Road, Fairfax. Info, 849-6853
Last Resort Farm
raises certified organic berries, with "toddler rows" perfect for small hands. 2246 Tyler Bridge Road, Monkton. Info, 453-2847
Sam Mazza's You-Pick Berries
is part of their 350-acre farm, which includes a retail market, bakery and greenhouses. 277 Lavigne Road, Colchester. Info, 655-3440
Hartshorn Farm
features a maple sugarhouse in addition to berries. This vegetable and flower farm also offers educational summer camps. 54 Quarry Road, Waitsfield. Info, 496-3081
Charlotte Berry Farm
has limited picking but welcomes families with wee ones in tow. 4702 Route 7, Charlotte. Info, 425-3652