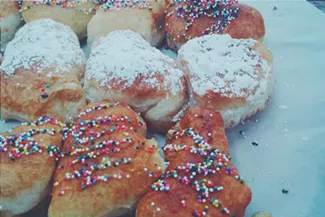 Fried dough with sprinkles and powdered sugar
I love fair season for one reason — the food.
When I was growing up, the warm days of early fall meant lots of festivals and fairs with amazing things to eat. I remember sausage and pepper sandwiches, fresh-squeezed lemonade, cannolis and — my all-time favorite — fried dough. I don't mean funnel cakes, which are made by drizzling pancake-like batter directly into hot oil in a swirly patttern. This is actual yeasted dough that's been allowed to rise once, fried in pieces and dusted with powdered sugar.
In Endicott, New York, where I grew up, it's known as Pizza Fritte because it's traditionally made with pizza dough. It comes in a large circle about the size of a paper plate, and it's always dusted with powdered sugar. When my husband and I moved to Burlington, I was delighted to discover that a version of it existed here, known simply as Fried Dough and served up with a choice of sweet toppings.
This year we missed the Champlain Valley Fair. We were all too busy with school and work to coordinate a family trip. I was feeling deprived of my yearly dose of fried dough, so I decided to give it a go in my own kitchen. Guess what? It was easy and fun. Now it can be fried-dough season any time!
I like this dough recipe because it comes out just a tiny bit sweet when it's fried — the perfect crispy, chewy base for honey and butter, powdered sugar, a chocolate drizzle or — my new favorite — sprinkles!
Pizza Fritte

Ingredients
For the dough:
3 cups flour
1 package active dry yeast
1 cup warm water
1 Tablespoon honey
1 teaspoon kosher salt
1 Tablespoon olive oil
Directions:
In a large mixing bowl, combine the water and honey, then sprinkle the yeast over the top. Let sit for a few minutes until it starts to foam. Add the olive oil.


Add the flour and salt and, using a wooden spoon, mix to combine until the dough pulls together and away from the sides of the bowl. Turn it out onto a floured surface and knead for about 5 minutes until it becomes smooth and pliable.

Cover the dough with a clean, slightly damp towel and let it rise in a warm spot for about 30 minutes.

Knead the dough a few more times, then divide into two balls. Cover both balls with the damp towel again and let them rest for another 15 to 20 minutes. After that, you can cut them up and fry them right away, or wrap them in plastic and refrigerate them for up to two days.

When you're ready to fry:
Heat about an inch of canola or peanut oil in a large heavy skillet. I used a 12-inch cast-iron one and it worked wonderfully.


Cut the dough into as many pieces as you'd like. They can be small or large, and you can roll the dough out a bit to make the pieces flatter if you like. If you put chunkier pieces into the oil they will puff up a bit like doughnuts — not a bad thing at all! Get a cookie sheet lined with paper towels ready nearby to soak up oil from the dough when it comes out of the pan.

When the oil is very hot, use tongs to add your dough pieces a few at a time. Watch carefully. They only need 20-30 seconds per side! When both sides are golden brown, place them on the paper towels for a few seconds, then sprinkle with sugar or drizzle with your favorite topping and enjoy!