It seems like you can't look at a food magazine, blog or website these days without seeing an article about quinoa. It's understandable. The funny little seeds do have a lot going for them. Quinoa cooks up in about 15 minutes, much quicker than brown rice. It's gluten- and cholesterol-free, has a high protein content and provides all 9 essential amino acids — making it an excellent choice for vegetarians and vegans. What's not to love?
My introduction to quinoa came a year or so ago, and I was so excited about this new alternative to rice and pasta that I went a little crazy with it. For a while I put it on the menu at the Children's Space at least once a week. I tried using it to replace the rice in burritos (not recommended), in casseroles (slightly more successful) and as a side dish (the kids mostly pushed it around their plates into little piles). At home I was equally enthusiastic and my family — usually good sports about trying new, healthy foods — eventually rebelled. I knew I had to take a break from adding quinoa to everything the night my husband, eyeing his dinner plate suspiciously for any trace of the tiny spheres, asked, "Did you put quinoa in these mashed potatoes?"
I took a step back, and vowed to only put quinoa on the menu at school and at home when I found a really fantastic recipe.
Over the summer, I experimented. I tried various combinations of quinoa with beans, veggies, herbs, spices and dressings. They were all okay, but there were no home runs. And I knew it would take something really special to get everyone excited to give quinoa another try.
When the Children's Space got a box of butternut squash from our Intervale farm share a few weeks ago I had a brainstorm. I cooked up a pot of quinoa. I cut one of the squash into tiny cubes, then roasted it with olive oil, salt and pepper until it caramelized. I added the squash to the quinoa, along with finely chopped red onion, scallions, salt, pepper, dill and feta.
I made it for my family's dinner that night and, for the first time, a quinoa dish actually disappeared.
I think I found my home run.

Warm Quinoa Salad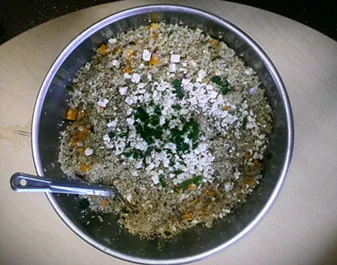 2 cups quinoa
1 medium butternut squash – peeled, seeded and cut into a ½-inch dice
1 small red onion, diced
3 or 4 scallions, thinly sliced
3 Tbsp olive oil, divided
1 cup crumbled feta cheese, divided
2 tsp dill
1 tsp salt (or to taste)
1 tsp black pepper
Juice of ½ a lemon
Preheat your oven to 400 degrees. Toss the squash cubes with 2 tablespoons of olive oil until all the pieces are coated. Arrange in a single layer on a rimmed baking sheet and roast in the oven for about 15 minutes.
While the squash is roasting, cook the quinoa. I usually cook 2 cups of quinoa with 3-3.5 cups water and a pinch of salt. Bring it all to a boil, then cover, reduce heat to low, and simmer for 15 minutes. When it's done cooking, transfer the quinoa to a large bowl.
Chop the onion and the scallions, and add to the quinoa while it's still warm.
Check your squash! It's ready when it's easy to pierce with a fork, turning brown and slightly crispy on one side. Add it to the bowl, making sure you get any nice crunchy bits and all the oil from the pan.
Throw in the salt, pepper, dill, and lemon juice and mix everything well.
Last, add ¾ cup of feta and toss to combine.
Taste and adjust the salt, pepper or lemon juice to your liking.
To serve, sprinkle the last ¼ cup of the feta over the top, and drizzle with the last tablespoon of olive oil.
Enjoy!