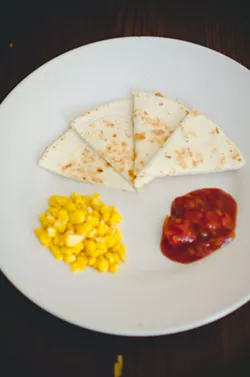 My family has our ten-year-old son, Eli, to thank for our obsession with quesadillas. He ate his first one at a restaurant when he was about six. We were traveling to visit my parents in New York and stopped at a sports bar type spot for lunch. Wary of the kid's menu options and hoping to avoid anything fried, we ordered him a plain cheese quesadilla. He immediately fell in love.
Back at home he began asking for them regularly and they quickly became a staple in our house. They're easy to make, versatile and — when made with whole wheat tortillas and colorful veggie fillings — quite healthy.
We pack them in school lunches, make them for snacks when friends come to play and even have a "special" meat-filled version we use as an alternative to pizza on Friday Movie Nights.
They're also a lunchtime favorite at Burlington Children's Space. I fill them with cheese, black beans and sometimes thin slices of red and green peppers for the preschoolers, who devour them by the plateful.
During the summer months, when fresh veggies are abundant, I love to serve them with corn on or off the cob, homemade salsa and avocado slices.
The prep is very kid friendly, so if you have a budding chef in your family, pull a stool up to the counter and have a little one help you grate some good cheddar or jack cheese. If you have kid-safe knives they can also help prep the salsa ingredients. The rest is up to you!
There are tons of delicious options for filling them, but one of my favorites comes from my go-to cookbook,
Jamie's Dinners
by Jamie Oliver. A mild salsa I came up with at home makes a great accompaniment.
Quesadillas for Dinner!
(Serves 5, usually with some leftovers)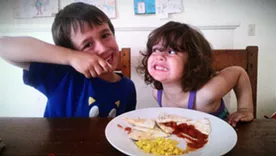 Adapted from
Jamie's Dinners
by Jamie Oliver
You'll Need:

About three cups grated Cheddar or Monterey Jack cheese
A handful of thinly sliced scallions
2 handfuls fresh cilantro, stems removed and roughly chopped
1 red pepper, cut into thin strips and then chopped into small pieces
A pack of 10 8-inch whole wheat tortillas
Sour cream to serve on the side
A skillet or non-stick pan, larger in diameter than your tortillas.
Directions:
Mix the cheese, scallions, cilantro and red pepper in a large bowl.
Preheat your skillet to medium heat – you want the quesadillas to cook quickly but not burn.
Place one tortilla on the dry skillet, sprinkle a handful of your filling on top and spread it evenly with a spoon or spatula, then lay another tortilla on top. (My kids love to hang out next to me at the counter and help with the sprinkling during this stage.)
Check the bottom tortilla after a minute by lifting one edge with a spatula. When it looks golden and crispy and the filling is melting nicely, flip it!
When the second side is golden brown and they start smelling delicious, they're ready.
Slide the quesadilla onto a cutting board to cool. Then cut it into six wedges.
If you're making a bunch at once, you can pop finished quesadillas onto a cookie sheet and into an oven set to warm or 200 degrees until they're all ready to serve.

Erinn's Salsa
You'll Need:
2 cups of chopped tomatoes (about 4 medium tomatoes)
Half a small red onion, chopped
Half a small green pepper, chopped
Two tablespoons fresh cilantro, stems removed
A squeeze of lime juice
Salt to taste

Directions:
Depending on your taste, you can put all of the prepped ingredients into a food processor and pulse until the mixture is fairly smooth or just mix them together in a bowl for a chunkier salsa. My kids prefer the smoother version, and since they happily scoop it up with their quesadillas they get a bigger dose of fresh veggies with dinner. Win!
Erinn Simon makes lunch everyday for the toddlers and preschoolers at Burlington Children's Space, where she's known as The Lunch Lady. You can find her blog about her work there
right here
. She lives in Burlington's Old North End with her husband, photographer Sam Simon, and kids Eli (10), Cal (6), and Sadie (3).